Portland Trail Blazers acting GM Chad Buchanan wonders whether guard Brandon Roy can play 82 games next season. Posted by Ben Golliver.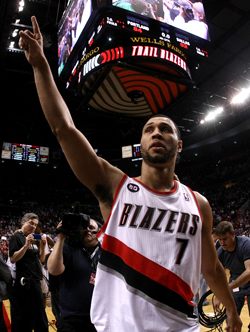 The last few months have been nothing short of disorienting for the Portland Trail Blazers.
The team was bounced out of the first round of the playoffs for the third season in a row by the Western Conference's eventual champion: the Dallas
Mavericks
. The loss was not unexpected, but it was still frustrating, as owner Paul Allen and coach Nate McMillan both seemed dead set on making further progress in the postseason this year.
If the playoffs were frustrating, than the offseason, so far, has been perplexing. GM Rich Cho, on the job for less than a year, was fired without warning. President Larry Miller shifted some deck chairs around, naming director of college scouting Chad Buchanan as Acting GM.
There's no bigger issue facing Buchanan and the Blazers than guard Brandon Roy. Roy went through dual knee surgeries last season and missed a good chunk of the season while rehabbing. But no one, not even Buchanan, apparently, knows what to expect from Roy in the future.
In an interview with 750 AM in Portland
, Buchanan admitted that he wasn't certain Roy can make it through an entire season.
We all recognize -- if you watch Game 3 and Game 4 of our playoff series -- that Brandon Roy has still got some game. We are very conscious of that. People have counted him out, but I think we all recognize that Brandon can play at a high level. Whether it's for 82 games or not? I think that's something that Brandon is still trying to figure out with his body and where he's at. I think, for our coaches and for Nate, we're trying to figure out best how to utilize him knowing his health. I think we're both asking: How is this going to work moving forward?

Brandon Roy has meant the world to this organization, he's helped resurrect our franchise, we're very appreciative of that. We have not had any discussions with Brandon about anything since the season ended. We let our guys decompress and get away from the game. We'll start to re-engage with Brandon here, making sure that he's on course for this summer to do the things he needs to do to be ready for next season.
With most players in his physical condition, the best course would simply be the patient one: wait and see what he can handle and how he performs, manage his minutes and keep a careful eye on his progress.
The Blazers owe Roy more than $68 million over the next four seasons, so there is a clear urgency factor at play, especially among fans. With starters
Marcus Camby
and
Andre Miller
winding down, and new arrival
Gerald Wallace
with just a few more years of prime play, the feeling is that the Blazers need a lot more from Roy than he's capable of giving.
Given his health and contract, though, he's essentially untradeable. The Blazers have another capable two guard on the roster in
Wesley Matthews
, but he lacks Roy's starpower. The Blazers don't have many other choices. If there's an amnesty clause they'll likely consider using it on Roy, but the temptation to hang on and hope will be very strong because of the lack of other options. Roy is committed to continuing his career, so retirement and medical retirement are out of the question.
Buchanan's honesty here reveals just how directionless this team is right now. Roy was once the pillar of the franchise, a perennial All-Star who could be counted on for consistent, reliable production. Now, even those with the most to gain for hyping him up, are taking a very cautious approach.
Reading between the lines, it could be tough times ahead for Blazers fans.