LeBron James says he needs to be more aggressive and that no one, including Shawn Marion, can stop him one-on-one.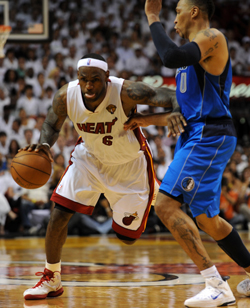 Posted by Ben Golliver.
DALLAS -- Miami
Heat
forward LeBron James is always going to get his numbers. No matter who guards him, how often he faces double teams or what position he's asked to play, James produces, and produces big.
Over his last seven NBA seasons, James has averaged at least 26.7 points, 6.7 rebounds and 6.0 assists. Not a single other NBA player has hit those numbers once.
Through two games in the NBA Finals, James's scoring and passing numbers have taken a hit. Despite playing 42.5 minutes per game, James is averaging 24 points, 8.5 rebounds and 4.5 assists and the Heat are averaging just 92.5 points as a team, down nearly 10 points from their regular season average of 102.1.
These aren't eye-popping declines given that defenses tighten up in the postseason, but any time James isn't performing to his usual standard, questions start getting asked. For starters: Is
Mavericks
forward Shawn Marion throwing him off of his game?
At his media availability on Saturday, James complimented Marion's performances during Game 1 and Game 2, but seemed to scoff at the notion that Marion individually had succeeded in slowing him down.
"I think Shawn Marion has done a great job," James said. "Especially offensively. He's picked up his game offensively. Hanging around the rim, getting some lay-ups, getting some tip-backs, playing around the rim. His activity throughout the first two games has been pretty good."
But what about the defensive end?
"I don't feel like it's one guy in this league that can stop me one-on-one," James said. "There's always a defense that's looking at me when I have the ball. He's the guy that's guarding me, but there's no one guy that can guard me."
When Marion has matched up against James, he's done about as well as can be expected. He's played both assertively and intelligently, competing regardless of whether he gets beaten for a highlight dunk. Late in Game 2, James was bottled up about as tightly as you'll see and he responded by forcing up late three-pointers against the shot clock that didn't fall, a critical factor in Dallas' massive comeback.
If James wasn't going to give him credit, Marion was happy to give it to himself.
"I've been doing it my whole career," Marion said of his defense on Saturday. "If you go back and look at my whole career, I've done it -- point guards all the way to big men. It's just another day at work."
Marion wanted to make it clear that his defensive abilities aren't simply a product of a new role he's taken on as he's gotten older or with this particular Mavericks team.
"I've always been a defensive stopper," Marion said. "I've always played defense. I had to go from playing the three to playing power forward. Name me players in this league who can do that. 6-foot=7, 225 pounds. Nobody can do that probably in the next generation coming. I've always prided myself on playing both ends of the floor. I'm a competitor."
So if it wasn't Marion stopping him, what's gone wrong offensively in James' opinion?
James attributed his decreased scoring to a lack of aggressiveness and pointed to the fact that he has attempted just six free throws in the first two Finals games combined.
"I do have to be more aggressive in the paint," James said. "Six free throws in two games -- I do that in my sleep in one game. So that's not me. I'm going to make a concerted effort to be more aggressive to try to get to the rim, create some more opportunities for myself and my teammates."
Heat coach Erik Spoelstra said he pinpointed three late-game possessions that were "very poor" and later Wade explained that those three possessions were the forced, errant threes from himself and James. "
James seemed to agree, singling out one aspect of Dallas' defense that he believed deserved praise: the Mavericks' unexpected decision to aggressively defend him on the perimeter during pick-and-rolls late in the game.
"They did some things defensively that they hadn't done throughout the first two games all the way. They started to blitz me [and Heat guard
Dwyane Wade
's] pick-and-rolls, a lot our sets kept us on the perimeter. We didn't get into our sets early enough to give us more time. So we had to take contested long-range threes."
Forcing James to take contested, long-range threes is the definition of succeeding defensively against him. Marion deserves the praise for his Game 2 performance, even if James wasn't willing to give it to him.