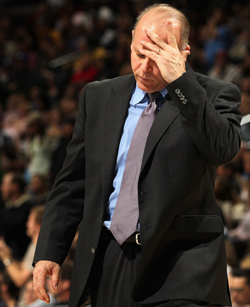 Posted by Royce Young
It was expected, but John Kuester was relieved of his head coaching position in Detroit, the team announced today.
"Decisions like this are difficult to make," said general manager Joe Dumars in a statement. "I want to thank John for his hard work and dedication to the organization over the last two years, however, at this time we have decided to make a change."
Kuester became Detroit's head coach in July of 2009, replacing Michael Curry. In two seasons on the bench, Kuester led Detroit to just a record of 57-107. As an assistant on Larry Brown's staff, he helped lead the
Pistons
to their 2004 championship.
It was a pretty rocky season in Detroit for Kuester and not just because the team stunk. At one point late in the year, the team arranged a bit of a protest against him as players were upset with him. It appeared Kuester had lost control of his team as veterans such as
Tayshaun Prince
,
Richard Hamilton
and
Charlie Villanueva
publicly voiced dissenting opinions.
Kuester butted heads with both Prince and Hamilton over playing time, sitting both for extended periods including a deactivation of Hamilton for nearly a month. Late in March,
the team had even privately nicknamed Kuester "Sean Penn"
because of the Penn movie "Dead Man Walking."
This firing was entirely expected, but the Pistons wanted to wait until the ownership transfer with Tom Gores' group was finished up. After David Stern announced before Game 1 of the NBA Finals that the sale was complete, it was only a matter of time. As is protocol, the new ownership group first met with Kuester and Dumars to decide any future plans. Once that meeting happened, Kuester was out.
Kuester was an assistant to new Laker head coach Mike Brown in Cleveland and is expected to join Brown's staff in Los Angeles. As for who the Pistons are looking at, reportedly former Atlanta coach Mike Woodson is an early leading candidate along with the usual list we've come to know -- Lawrence Frank, Dwane Casey, Mark Jackson, Mike Budenholzer.
Woodson though was an assistant under Larry Brown in Detroit and with a pretty solid tenure in Atlanta, would likely be a good fit for the Pistons.