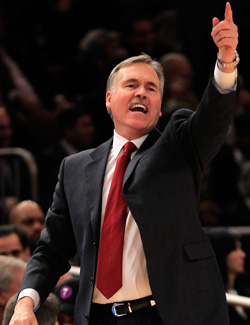 Posted by Royce Young
After the question of Donnie Walsh's future was settled with his decision to move to an advisory role with the team this week, now it's about what happens with coach Mike D'Antoni.
Maybe D'Antoni's biggest fan -- besides his wife, I assume -- was Walsh.
But according to the New York Post,
owner James Dolan is also in the corner of D'Antoni.
It is unclear if a contract extension would be discussed, but one source said Dolan likes D'Antoni a lot. D'Antoni has one year and $6 million left on his contract, and Dolan is not keen on eating it during a lockout-shortened season with revenues down.
Following the sweep at the hands of the
Celtics
in the opening round, D'Antoni's seat went form warm to hot. The team was playing without
Chauncey Billups
in three of the four games, but being swept isn't something
Knicks
' fans had in mind when the team made the postseason.
D'Antoni spoke with the Post recently and expressed that he's not too worried about his future with the Knicks.
"No, I feel good," D'Antoni said. "I hate it Donnie is leaving. I owe a lot to him. We had three good years. He did exactly what he wanted and said he would do and he's got us in position to be one of the better teams in the NBA next year. That's to his credit.
"We worked well together," he added. "I appreciate his support and I feel good about us having a great year next season. It's all a coach can ask for, to have him give me that chance. He's put me in that position."
The biggest criticism of D'Antoni this year came because of incredible defensive meltdowns, specifically in the second halves of games. The Knicks have two premier scorers in
Amar'e Stoudemire
and
Carmelo Anthony
, but both of those players lack on the defensive end.
There's a lot of uncertainty surrounding D'Antoni's assistants who all have their contracts expire June 30.
According to the New York Times,
D'Antoni is expected to add a defensive specialist to his staff at the request of the front office. As the report notes, that's nothing new -- in Phoenix, Marc Iavaroni served as D'Antoni's defensive coach for three and a half seasons.
There isn't much doubt that D'Antoni will return next season to finish out his contract but if things start slowly, his seat could turn to fire. And of course if marked improvement isn't shown -- especially on
both
ends -- it's not going to matter how much Dolan likes him. It's time for the Knicks to start winning again.