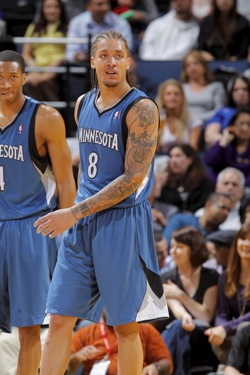 Posted by Royce Young
The Wolves have been shopping the No. 2 overall pick the past few weeks. But it's looking like no one is willing to trade a good veteran player for it so the Wolves will just do what we all expected: draft another talented player who doesn't really have a place on the roster.
Except this time, there's more to it.
According to Draft Express, if the Wolves hang on to No. 2, they'll take Derrick Williams but instead of having him in a logjam with
Michael Beasley
and
Kevin Love
, Minnesota will immediately put Michael Beasley on the trading block.
It's likely that Williams will be the one taken since he is the consensus second-best talent in this draft, according to NBA decision makers. If Minnesota keeps the pick and indeed selects Williams, sources say the Timberwolves will look to move Michael Beasley as they try to improve the "culture of the team."
Well that's a nice little twist. And one that actually makes a lot of sense.
See, that's been the problem with the David Kahn plan. He keeps adding talented young players but without any sort of plan or cohesion for the roster. It's just one guy after the other stacked on top of each other. People wonder why Sam Presti has been able to succeed with drafting youngsters and developing them. Why have the
Thunder
's players progressed while Minnesota's really haven't? A big reason is because they've got to be put into a position where they can learn through experience and develop in a role they're comfortable in.
Finally, with Williams, it sounds like that might be the case. Instead of planting him in an awkward role behind Beasley who will eat possessions and shots, Williams could actually maybe make small forward his spot in Minnesota.
I can't just say, "Good job Kahn!" and move on for two reasons though: 1) This hasn't actually happened and with Kahn, I'm like Kevin Love: I'll believe it when I see it and 2) because remember how Kahn said in an interview after the season that the building of his roster was complete? That was an idiotic thing to say then and this type of thing just makes it even more so.
Losing Beasley wouldn't be a big deal because the Wolves didn't give up much to Miami to get him (a second-round pick). And while Beasley showed flashes last season, is he really a building block? This would be smart for Minnesota, but that's what also makes me skeptical about it's reality.