Miami Heat forward Chris Bosh says his eye feels better after suffering an injury in Game 3 against the Dallas Mavericks. Posted by Ben Golliver.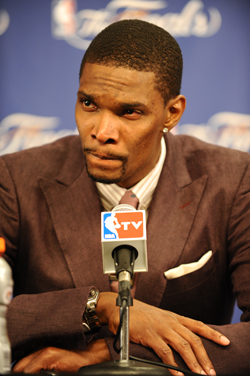 DALLAS -- Up two games to one over the Dallas Mavericks in the NBA Finals, the Miami Heat have their collective sight set on the second title in franchise history.
The only problem? Heat forward Chris Bosh was poked in the eye during the first half of Game 3 and his eye has swollen considerably. Speaking with reporters before Heat practice on Tuesday, Bosh was coy about whether his vision had been impacted.
"I can't remember if I could see or not," Bosh said. "I wasn't really thinking about my vision or anything. I was just trying to play the best basketball possible. If I had the open shot, I had to knock it down and still make plays."
"He couldn't really keep it open without it watering," Heat guard
Dwyane Wade
said. "He fought through it."
"All game, you could see it watering," Heat forward
LeBron James
said. "You could see him messing with it, just trying to keep a tissue during time-outs to keep it padded. But he fought through it, and you definitely respect that."
A night's rest did Bosh some good.
"It feels a lot better," Bosh said. "Last night was rough, really for the whole game for me. But it is what it is. That's over and we just have to stay on top of it and make sure it's not an issue for [Game 4] tomorrow."
Bosh said that his injury wasn't a direct blow, like a boxer might take, but a painful poke instead. Dealing with adversity like the eye poke, Bosh said, serves as a test of mettle.
"I was talking to my friends, saying how tough it would be to come in here [to Dallas] and win," Bosh said. "And it was a little tougher on my end just because of that. In situations like that, you really see what you're made of. You have to go and get it done anyway."
During the game, Bosh said there wasn't time for official medical vision tests, but he was able to laugh when asked whether he administered a self-test by simply covering one eye and then switching it. He admitted he had tried that.
"Every time I did that, I was like, 'OK, that's stupid.'"