Portland Trail Blazers president Larry Miller denies rumors concerning his team's open GM position. Posted by Ben Golliver.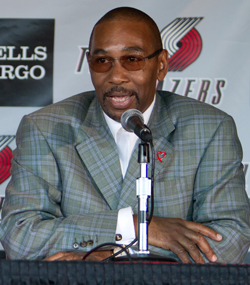 DALLAS -- Rumors are still swirling around the Portland Trail Blazers' vacant GM position, but team president Larry Miller continued to insist on Monday that his team hasn't begun the formal search process to find a replacement for Rich Cho, who was fired in May.
"I just want to make it clear that all this speculation about meetings today and all this other stuff is absolutely not true," Miller said. "None of it is true. [Owner] Paul [Allen] is still out of the country. I'm in Dallas. There are no meetings that are going on and, again, our focus right now is on the draft.
"We haven't compiled a list. We haven't really started to go through a process of looking for a candidate, so any of the rumors that are out there are just that: rumors. Because they are not true."
Rumors surfaced on Monday morning
that the Blazers had had internal conversations about possibly bringing back former GM Kevin Pritchard, who was fired last summer.
"I can say to you that anyone who has been here and been in that role before is not being considered," Miller said.
He went on to specifically rule out former GM Kevin Pritchard, former Vice President of Basketball Operations Tom Penn and former executives Mark Warkentien -- now with the New York Knicks -- and John Nash.

While he was at it, Miller also denied rumors that the team made contact with GM candidates or their agents before parting ways with Cho. "It's not true," he said. "We hadn't put any feelers out at all."

Miller insisted that any talk with potential replacements has been incoming rather than outgoing.

"I've gotten a number of calls -- either agents or people who are interested directly -- but we haven't spent any time reaching out to anybody at this point. Our position still is that we're in no rush. Right now, our focus is on getting through the draft."
Since announcing Cho's firing, Miller has maintained that the Blazers have "no timetable" for hiring a replacement GM and that it's "possible" the team will enter next season without a new GM in place. Miller repeated that sentiment on Monday, saying that his organization "absolutely" and "unequivocally" plans to enter the NBA Draft, which takes place on June 23, without a full-time GM in place.
Miller remains upbeat heading into the draft process, even without a full-time head of basketball operations in place.
"I'm 100% confident that we've got the bases covered that we need to have covered in order to have a good draft," Miller said. "I think we're in good shape as far as draft preparation is concerned. We're looking at all the possibilities. Do we stand pat and draft in the positions that we currently have? Do we try to trade to move up? Do we try to make some other trades using our draft picks? I'm confident that on draft day we'll make the right decision."