J.J. Barea will move into the Dallas Mavericks starting lineup in place of DeShawn Stevenson and Brendan Haywood has been activated. Posted by Ben Golliver.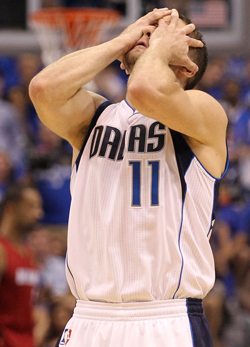 The Dallas Mavericks have been playing from behind throughout the NBA Finals, or at least it feels that way. Trailing 2-1, the Mavericks are reportedly switching up their starting lineup in hopes of reversing that trend.
On Tuesday afternoon,
HoopsWorld.com reported
that reserve guard J.J. Barea would move into the starting lineup in place of DeShawn Stevenson.
Later Tuesday,
the Ft. Worth Star-Telegram confirmed
the lineup change, citing multiple sources.
In his pre-game media availability, Mavericks coach Rick Carlisle would not confirm the move.
"I'm not going to confirm that," Carlisle said. "Although someone has put themselves out there with that prediction. I can confirm that I have an assistant video guy that would like to date the T-Mobile 4G girl. That's not going to happen for him right now either.
"My policy has been the same as long as I have been here. I release lineups 16 minutes before the game, and I'll continue to do that."
In the locker room, however, Stevenson told reporters that Barea would take his place in the starting lineup.
Carlisle did say that center Brendan Haywood, who missed Game 3 due to a hip flexor injury, will be activated for Game 4.
"The plan is that he'll give it a shot and hopefully it will go well. We'll see. He's worked hard to reduce the swelling, he's had multiple MRIs, all that stuff. We've kind of worked up to this. We obviously need him. We're hoping it goes well.
Barea, a pint-sized sparkplug, has been a key contributor throughout Dallas' playoff run, but he's fizzled so far in the Finals. He's averaging 8.2 points and 3.2 assists and is shooting 40% overall in the postseason. His Finals numbers: 4.3 points and 1.7 assists on an abysmal 21.7% shooting.
The Mavericks have to hope his energy and the match-up problems his size pose can help jumpstart their early offense. The move will likely force Barea to guard
Heat
guard
Mike Bibby
, with Mavericks point guard
Jason Kidd
defending
Dwyane Wade
.
Stevenson is a starter in name only, as the Mavericks give heavy minutes to reserve guard
Jason Terry
and Barea. Barea started just two games during the 2010-2011 regular season and has not started a playoff game yet this postseason.
Miami Heat coach Erik Spoelstra did not announce any lineup or active roster changes.