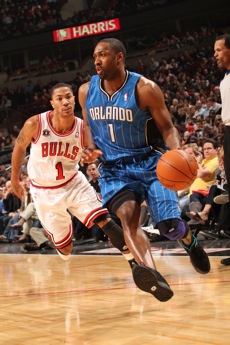 Posted by Royce Young
Gilbert Arenas
' return to Twitter was pretty much a godsend for sportswriters and fans. Nobody is more candid, wacky, clever and borderline crazy than Arenas, so bottling him up into 140 characters or less is a sure thing for good results.
Kind of like Charlie Sheen with a shoe deal. Or something.
Except that sometimes he crosses a line. At least a line the league has set. It didn't take long,
but according to the Orlando Sentinel,
the NBA fined Arenas for comments he made on Twitter.
The league didn't specify for how much or what tweets he was fined for, but take your pick, I guess. In between uploading pictures of his fishing trips, Arenas has made a couple of potentially derogatory comments about women. That could've done the trick.
Arenas took to Twitter (of course) to vent about the fine.
"yesthe nba has fined me....for being to awesome..so i can give you the shoes for FREE but gotta charge you for the jokes... i cant believe i got fined..how do i explain this to the lady at the bank...this is gonna take another 40mins... or i could just write a check and if theres a lockout just cancel the check it and maybe they will forget.....i think that will work.."

Arenas, who's never been one to take himself seriously, continued to make light of the situation in his next Twitter messages: "its okay it all evens it self out..i get fined from the nba........im stealing cable from my neighbors..so bam bam jackpot...hahaha".
I find it a little strange, though, because other players have said similar things or worse on their accounts. Arenas was either singled out or caught. I'm sure that's why he's a bit frustrated.
The
Magic
didn't comment on it. But that's just Gilbert, I guess. It was only a matter of time before he got himself in trouble. Gilbert Arenas unfiltered and unedited is fun for us but bad for his bank account.