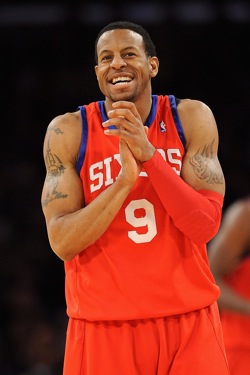 Posted by Royce Young
First, it was
Andre Iguodala
for
Monta Ellis
. Now,
a report from ESPN.com
has the
Clippers
and
76ers
talking about a Iguodala for
Chris Kaman
deal.
Alert: The Sixers would very much like to trade Andre Iguodala.
Iguodala is on the books through 2014 (he has an early termination offer) making about $44 million over the next three years. Kaman's contract expires after next season, and his salary lines up with Iguodala's, making a one-for-one swap possible.
Obviously, the attraction of this trade for Philadelphia is the expiring deal of Kaman, who would pull about $12 million off their cap after he expires. And don't forget: Kaman was an All-Star center two years ago. He battled injuries last year, but the guy is a productive seven-footer. Is he worth Iguodala straight up without the expiring deal? Of course not. But you're getting a quality, All-Star-ish center in exchange for a guy who may not really fit your roster.
For the Clippers, this deal is a beautiful thing. If I were them, I'd toss in whatever it took (within reason, of course) to make it happen. A starting five of
Mo Williams
,
Eric Gordon
, Iguodala,
Blake Griffin
and
DeAndre Jordan
? That's a group you can win with. Plus, young talent like
Eric Bledsoe
and
Al-Farouq Aminu
will develop as well. I'd love to know why the Clippers would ever say no. Because this deal almost makes
too much
sense.
The Clippers would get a wing stopper and slasher to pair up with Griffin. Gordon already can handle primary scoring duties along with Griffin, and now you've got maybe the best perimeter defender in the league. You're more athletic, longer and a team that can win a lot more games in the 90s.
The Sixers made the playoffs with Iguodala playing a key role, but he's seemingly been on the block for months now. He just doesn't seem to fit quite right in Philadelphia, for whatever reason. And despite last season's successes, moving Iguodala appears to be part of an overreaching long-term building plan. More cap room to go along with more breathing space to develop younger guys like
Thaddeus Young
and
Evan Turner
, I guess. Not a terrible plan, but I'd at least ask for a draft pick or two to go along with it.
As is with so many trades that float out there in the world, this one probably will dry up within a few days. But it's an interesting deal to think about. And yet another sign that the Sixers are very much interested in moving Iggy.