Dallas Mavericks forwards Dirk Nowitzki and Shawn Marion will play in Game 5 despite illness and injury. Posted by Ben Golliver.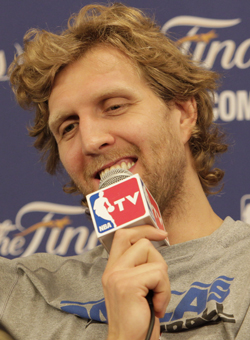 DALLAS -- Game 4 of the 2011 NBA Finals might be best remembered for Miami
Heat
forward
LeBron James
'
disappearing act
, but there were some dramatics on the other bench as well.
Dallas Mavericks forward Dirk Nowitzki
struggled with a temperature greater than 100 degrees
, and he hacked and sneezed his way through his postgame press conference following Dallas' surprising victory.
After practice on Wednesday, the word from the Mavericks camp is that Nowitzki is solidly on the mend.
"I think he's feeling better," Mavericks coach Rick Carlisle said. "He went through the stuff that -- we didn't do any contact things today. There wasn't any real running or banging. But hopefully by tomorrow he'll feel even better."
Nowitzki said he took things easy on Tuesday night and Wednesday morning.
"I had some soup and had a good meal," Nowitzki said. "Just drank some fluids, drank some tea and just feel a lot better today. I still got a little high temperature, but the fever is basically gone. So that's obviously the main concern always. Anything else, the sniffles or the cough, you don't really care about that as long as the fever is gone."
Carlisle said he did not believe his All-Star forward was contagious.
"I'm not sure it's that kind of a bug," Carlisle said. "He from time to time has sinus things that come up. Those things can present situations where he gets a fever and has difficulty sleeping and does a lot of sniffling and coughing."
Nowitzki said after avoiding physical activity on Wednesday morning that he planned to get in a brief workout Wednesday night.
"[I] just watched film and walked through some stuff," Nowitzi said. "I'll probably come back tonight, get a little sweat for like 30 minutes, at least get the body used to sweating a little bit. And then I'll be ready tomorrow."
Mavericks forward Shawn Marion told reporters that Nowitzki's illness isn't worth writing about.
"This is the Finals," Marion said. "What's he going to do stay in bed? Stay home? Don't play? Or what? This is it. You don't get here every day. If he can walk, he's going to play.
"If he has to roll out of bed with a thermometer in his neck and an IV in his arm, he's going to play."
Shawn Marion
During Game 4, Marion sat for virtually the entire fourth quarter for the first time in the Finals. Marion was shown on television with ice wrapped around his left calf and there was some talk during Wednesday's practice that perhaps he wasn't moving totally freely because of the injury.

On Wednesday, Carlisle said Marion sat during the fourth quarter because of a coach's decision. not an injury.

"That was just the way the game was going," Carlisle said. "[Guard] DeShawn [Stevenson] was playing well."

Prior to Game 4, Carlisle had told reporters that he hoped to play Marion fewer minutes. In the first three games of the series, Marion averaged 39.7 minutes per game. In Game 4, he played just 26.
"I was pleased that we could get Shawn some rest," Carlisle said.
As with Nowitzki's injury, Marion said that his calf was a non-issue.

"I'm walking. I'm good," Marion told ESPNDallas.com.
Dallas Mavericks reserve center Brendan Haywood missed Game 3 and was limited in Game 4 due to a right hip flexor injury sustained during Game 2.

Carlisle said Wednesday that Haywood will continue to be listed as day to day.

"He gave it a shot last night," Carlisle said. "It just wasn't quite where it needed to be. A tough situation. But with each day hopefully Mother Nature can help out. And we'll see if we can have him ready for tomorrow."

Haywood laughed and joked around as he participated in shooting drills during the portion of Wednesday's practice that was open to the media.