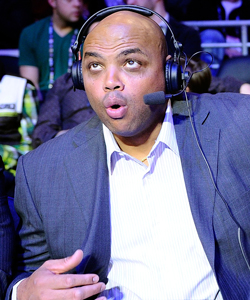 Posted by Royce Young
Charles Barkley made it pretty clear that he wasn't a friend of the
Heat
and their fans when he gave them the tall finger as they chanted "F--- you Chuck!" after Game 3 of the Eastern Conference Finals.
But it looks like he's upping the ante.
Talking on the Waddle and Silvy Show in Chicago,
Barkley didn't just call out the Heat, but their fans too.
"Yeah they have the worst fans. No question. It's not even loud in there. You're at the game and you are like, 'Man this place isn't even loud.' At least when you go to Chicago, it's loud in there, it's crazy down in Dallas but it's not even loud in Miami."
And then Barkley decided to double down. He said he doesn't root against the Heat, but definitely doesn't root for them. He picked against them in the Eastern Finals and said he'd do it again. Sort of.
"Listen, if the Miami Heat were playing the Washington Generals I would pick the Washington Generals," Barkley said with a chuckle. "It's something about that team that annoys me.
"They just a whiny bunch and I can't root for them."
Two times now Barkley has labeled the Heat a "whiny bunch." He must really mean that one.
I wouldn't say the Heat have the
worst
fans, but I was in the arena for Games 1 and 2 and he's right -- it wasn't very loud. Miami fans just aren't that invested it seems. They don't live and die quite as much with every shot. It's a good fanbase and a group that supports the team. They're just not actively involved in the game.
As for picking the Washington Generals over them? Is that with or without
LeBron James
showing up?