Hall of Famer Charles Barkley says he is interested in owning an NBA team. Posted by Ben Golliver.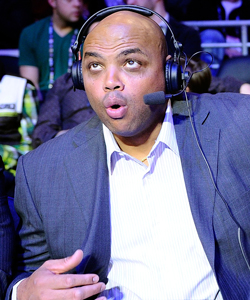 First you get the money, then you get the power.
Former NBA star and current television personality Charles Barkley is arguably the league's most prominent media voice. But Barkley says he has set his sights higher.
The Philadelphia Inquirer reports
that Barkley is interested in joining an ownership group of an NBA team, something that he has considered in the past.
"I don't have enough money to be like a Michael [Jordan] and take complete control of an organization," he said, alluding to Jordan's role as majority owner of the Charlotte Bobcats. "But it would be fun to, like whether it was in Philadelphia or Phoenix, to put a few million dollars in and be not a speaking owner but just a fun, good investment."

When asked if he had ever been invited to be part of an ownership group to buy the Sixers, Barkley said there were preliminary talks a few years ago.

"The last group that tried to put something together, but that fell through, I had preliminary conversations with them," he said. "I don't know anything about the new group."
Barkley uses the word "fun" to describe this dream of his, and that's all it would really be. Without majority control, he or any part-owner doesn't have final say on the direction of the franchise, plans for a stadium, roster moves, the hiring and firing of executives, and the like.
But NBA ownership is an elite club, and being able to refer to yourself as a part-owner is still an amazing bragging right, something reserved for the Michael Jordans and
Magic
Johnsons of the world. Would it meaningfully change Barkley's life? Who knows. He already enjoys a monstrous amount of fame, plays golf whenever he wants and is one of the most well-respected voices in the sport. But his decades of playing basketball, talking basketball and pitching products gives him the luxury of pursuing his every whim.