LeBron James reportedly refers to himself as "King James" when he text messages his fellow NBA players. Posted by Ben Golliver.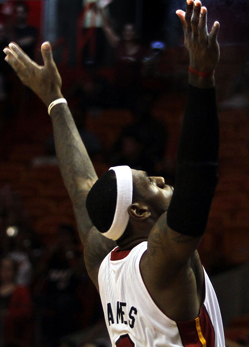 Miami
Heat
All-Star forward LeBron James said this week that he's used to having his every move and word scrutinized. Whenever he sends a somewhat meaningful tweet,
as he did before Game 5
, he answers question after question about it.
Here's a new level of access to his personal life.
The Washington Post reports
that an NBA player claims James refers to himself as "King James" when he sends text messages.
For example, a player recently told me LeBron had contacted him about possibly joining forces in the offseason, though he was cryptic about where he actually might play. The text began: "Yo, this is King James."

"I was like, 'Give me a break. You're going to call yourself that?'" the player said, on condition that his name not be used.

"Do you think Michael Jordan texts people by starting with, 'Yo, this is His Airness.' Come on, get over yourself."
Geez.
This report makes it sound like James inhabits a Neverland Ranch bubble, where his persona is the entire universe.
The player makes an interesting contrast between James and Jordan. James had national success at a much younger age than Jordan, and the system that surrounds young high school stars was much more sophisticated (not to mention loaded with cash) when he came up through the ranks than it was when Jordan burst onto the scene in the early 1980s.
As extraordinary as Jordan was as a high school senior and as a freshman at UNC, he wasn't driving a Hummer, getting thousands of dollars of free throwback jerseys and having his high school games televised on ESPN.
Throughout his career, Jordan could be "His Airness," but he also maintained a more personable "M.J." identity too. The guy who liked to play cards with his buddies, party late and gamble on golf. He was possibly the most famous person in the world, but fans could conceive of him as a human with "regular guy" interests.
No such luck with James. He's in his own planet, much closer to Michael Jackson -- the grown up child star -- than Jordan. The bad news for James? He's missing out on the rest of the world. The good news? He gets to be the King of his castle.