Is UK point guard Brandon Knight's stock dropping? Posted by Ben Golliver.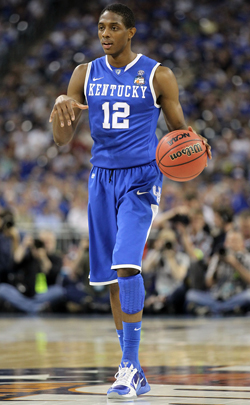 On Thursday
, we noted that BYU point guard Jimmer Fredette was taking a pro-active stance with his pre-draft workout strategy, essentially challenging UK point guard Brandon Knight and UConn point guard Kemba Walker to work out against him head-to-head.
We applauded that strategy, noting that Fredette really has nothing to lose. Knight and Walker, on the other hand, lose a bit of face publicly if they don't agree to work out against him -- or potentially risk slipping down the board should Fredette convincingly best them in a head-to-head setting.
SI.com reports
that Fredette isn't the only thing that Knight needs to worry about. Until now, he's participated in a limited number of tightly controlled workouts. The site notes that the strategy is rubbing some people the wrong way.
Sources say the Kentucky point guard could be risking his chance to go third overall to Utah by refusing to work out against competition. Knight has an open invitation to join Connecticut's Kemba Walker, BYU's Jimmer Fredette and UCLA's Malcolm Lee in a June 15 workout with the Jazz, but sources close to both sides said he has yet to decide whether to take part.

What's more, there are rumblings that Utah is less than thrilled at the notion that Knight would even consider dictating the terms with the No. 3 pick (although Turkish center Enes Kanter already did just that in his Jazz workout in Chicago in which Toronto also took part). It's unclear whether the Jazz would take a hard-line stance and refuse to take Knight unless he worked out against other top-line competitors, but that appears to be a possibility.

I attended Knight's workout in Sacramento on June 2 and walked away convinced that Knight saw the Kings as his so-called first-round floor at No. 7. The problem there, predictably, is that the one-on-none approach wasn't well received by the Kings' brass either.
Griping from NBA executives whose jobs hinge on their ability to evaluate talent is pretty commonplace this time of year. Imagine if your job was on the line and you didn't have much control during the most important decision-making time of the calendar year? That would be rough, so the complaints are legit.
But the top prospects have all the leverage every year. As long as they don't go out of their way to be rude, flaky or controversial, players who are regarded as top-5 picks are free to set the terms of their workouts and meetings with teams. It's a classic limited supply, loads of demand scenario that tips the balance in the players' favor.
Now, as for Knight specifically. His personality is top-notch. He's a hard-working, team-first, high-IQ point guard who developed his game during his one year of college and has been regarded as an elite NBA prospect for years. He manages to enjoy the big moment without having a big ego.
Any team that passes on him because he is playing his hand wisely is nuts. But if they want to grumble because they can't see more of him? Totally understandable.