Oklahoma City Thunder guard Nate Robinson was cited for public urination. Posted by Ben Golliver.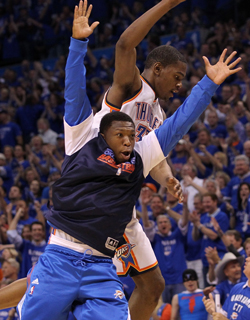 Pint-sized Oklahoma City Thunder guard Nate Robinson is best known for his Slam Dunk contest stunts and endless energy, but police in White Plains, N.Y., were clearly not amused on Thursday night when he allegedly urinated on a sidewalk.
The Oklahoman reports
that Robinson was cited by police.
The 5-foot-9 Robinson, who has also played for the New York Knicks and Boston Celtics, was arrested shortly before 2 a.m. after cops said he was seen urinating outside a Barnes & Noble store on Main Street.

He was taken to police headquarters, where he was issued a ticket charging him with a public urination violation. Robinson was released on $100 bail and is due in City Court on June 22. The violation normally carries a $50 fine. Police said he gave a Seattle address.
On Friday, Robinson
issued an apology
to his fans on Twitter. "Hey tweeps...I made a silly mistake last night...I apologize for my actions, it definitely won't happen again!"
Robinson, 27, was traded to the Thunder by the Boston Celtics in a pre-deadline trade that also brought center
Kendrick Perkins
to Oklahoma City. He is on the books for $4.5 million next season, the final year of his current contract.