2011 NBA Draft prospect Bismack Biyombo reportedly did not fare well in a Eurocamp workout open to the media. Posted by Ben Golliver.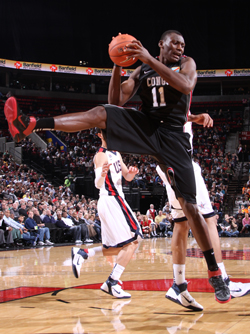 There remains no bigger mystery in the 2011 NBA Draft than Bismack Biyombo.
The athletic, defensive-minded big man from the Democratic Republic of Congo blew up this spring thanks to a triple-double at the Nike Hoop Summit, but he's been off the radar ever since after skipping the Chicago pre-draft combine and refusing to work out for NBA teams in the United States.
Instead, he's been off the map in Europe, where media access is limited. On Saturday, Biyombo conducted a workout in conjuction with adidas Eurocamp that was open to media members.
NBADraft.Net was in attendance
and reports Biyombo had a rough day.
The workout was a little painful to watch as he missed shot after shot from within 10 feet of the basket. At one point it seemed a little foolish to have him shoot so many shots when it's not the strength of his game. We counted his shots after the first couple minutes and he went something close to 12-of-35 from within 10 feet playing 1-on-none. He was able to redeem himself somewhat by knocking down 9 free throws in a row at one point to finish 14-of-20 towards the end.

Biyombo didn't look nervous but his shooting may have been thrown off to a degree.

The consensus is that the workout surely didn't help his cause and may have hurt him to some degree in terms of being a lottery pick.
ESPN.com explains
that Biyombo has kept a very strict workout procedure over the last few months.
A number of teams, including the Jazz, Raptors, Pistons and Warriors, made their way to Vitoria, Spain, to see the Congo's Bismack Biyombo work out. Biyombo has been in Spain since the Nike Hoop Summit preparing for the draft with Spanish coach Pepe Laso. Biyombo goes through two basketball sessions a day and one weightlifting session. His agent, Igor Crespo, has had an open invitation out for teams to come in and see Biyombo work out.

From what I can gather, virtually every team in the lottery, with the notable exception of the Wizards, has made the trip sometime in the past few months. The teams that haven't caught up with him will see him work out at the Eurocamp on Saturday afternoon.

The workouts aren't run by NBA teams, thought they have been allowed to ask Laso to take Biyombo through particular drills. Each team also gets an hour to interview Biyombo and a password to a website set up by his agent that contains medical MRIs, game film and more information about Biyombo.
What kind of impact can this type of workout have on Biyombo's stock? Probably not
that
much, for at least two reasons.
First, Biyombo is known for his shot-blocking, his rebounding, his energy and his high character. None of those traits come across particularly well in a standard workout setting, unless it happens to involve 3-on-3 play, which this workout obviously didn't. If he hits jumpers, that's a nice bonus. If not, that's in line with expectations.
Second, so many lottery teams wouldn't waste their time and resources visiting him in Spain unless his play in the Nike Hoop Summit and the Spanish ACB league made him a legit lottery prospect. Teams with a big book on a prospect are less likely to allow a single workout influence their perception of his talents and their interest in him as a player.
With that said, while a bad individual workout isn't necessarily a deal-breaker, it's not good news either. Given how restricted access is to him and how quickly he rose up mock drafts, any GM that drafts him is taking a significant risk. This type of workout is designed to answer questions, not raise new ones. Biyombo needs to be making teams salivate, not equivocate.
Here's video of Biyombo's workout
courtesy of YouTube user nbadraftnet
.