New Jersey Nets point guard Deron Williams is reportedly considering joining CAA, the agency that represents LeBron James. Posted by Ben Golliver.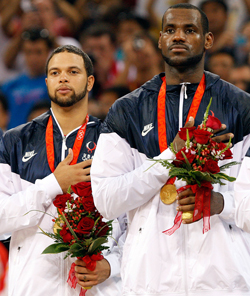 Any time a star player hits the market these days, you have to figure that Miami
Heat
forward LeBron James has something to do with it.
On Tuesday,
Bloomberg News reported
that New Jersey Nets point guard Deron Williams fired his long-time agent. Within less than a week, reports have surfaced linking Williams to the agency that represents James and his Miami Heat brethren: CAA.
Yahoo! Sports reports
that Williams is "strongly considering" changing his representation to CAA.
James has been a part of recruiting everyone else over to his side – Wade, Chris Bosh, Carmelo Anthony, Chris Paul. And now, the New Jersey Nets' Deron Williams is strongly considering joining up with CAA after firing his longtime agent. Within the NBA, this surprised people because Williams had always been so fiercely independent. He never star-gazed James like most of his young teammates, and never seemed inclined to follow.

"LeBron has almost become a movement within the league," says a league executive who'll recruit these players in 2012. "With Worldwide Wes [CAA agent William Wesley] and him, you're making a decision as a player to be packaged the way they packaged him. They follow him."
Earlier this week,
the Salt Lake Tribune also reported
that Williams is "expected to sign with agent Leon Rose, a source said Tuesday." Rose's agency was recently purchased by CAA.
If Williams joins CAA, it will be huge free agency news. Williams is under contract with the Nets for next season, but has a player option after that. In other words, he could start trying to force his way to a better club as soon as this year's trade deadline (if not immediately) by letting the Nets know he doesn't plan to pick up his option.

The Nets went all-in trading for Williams and they don't have much surrounding him. Surely, they'll feel the pressure this summer to do whatever it takes to get him talented teammates immediately. But should Williams have a different destination in mind, there's not much stopping him - save an overhauled Collective Bargaining Agreement - from becoming next year's Carmelo Anthony.

James and company paved the way for star players to realize how to maximize their leverage. If you're Williams, watching the Heat compete for a title in Year One, what is there to convince you that following in those footsteps isn't a good idea?