Posted by Royce Young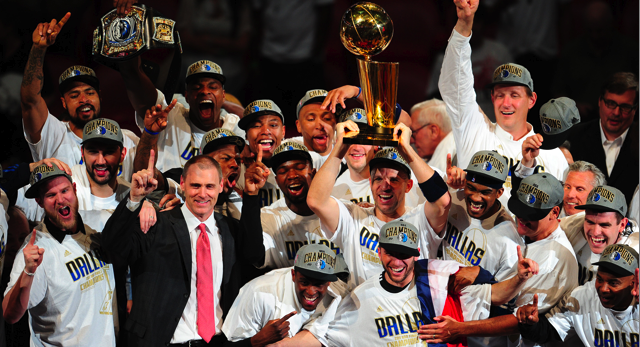 MIAMI -- That championship feeling won't wear off for a couple months, but eventually, the Dallas
Mavericks
will have to lace 'em back up and get ready to defend their title. (Hopefully sooner than later. I'm talking to you, lockout.)
The Mavericks completed a fairly improbable championship run, overcoming a serious injury to a starter, playing with just one real star and winning completely as a team, top to bottom. You don't see that much any more not just in the NBA, but professional sports.
But there will be a next season -- I think -- and the Mavs obviously are going to try and do it all over again. Winning once is great and validates a lot and redefines legacies all over the place, but it's not like they're all pulling a George Costanza and throwing their hands up to say, "That's it! I'm outta here!"
So what kind of offseason things will the Mavs be dealing with? Five questions for the champs.
1. What to do with Tyson Chandler?
Clearly, the Mavs want him back. Problem is, he may have played a little
too
good. No doubt Dirk was the Finals MVP, but if you told me to pick someone other than him I wouldn't have gone with
Jason Terry
. I would've said Chandler. Nobody impacted the series more than him in those six games, Dirk included.
The
Hornets
dealt with this exact same issues as Chandler put together some great numbers playing with
Chris Paul
, but Chandler's contract came back to bite them because it was too long and for too much. He made $12.6 million this past year and at just 28, he should have some good years left.
But he has been prone to injury and at 7 feet, that's not good. He has played 10 seasons already and 662 games. It would be a pretty scary endeavor for Dallas to extend him long-term for a big amount. But he earned a new paycheck and it's impossible to deny how important he was to the Mavs winning a trophy. Dallas wants him back, but it's about whether or not the numbers line up.

2. What to do with Caron Butler?
Remember him? The Mavs' No. 2 scorer and second or third best player? How many other teams could have survived losing their second or third option and still won an NBA title? We'll go with "not many."
Butler worked his butt off to try and get back to play in the postseason, but after having major knee surgery in January, that was just impossible. But he'll be 100 percent again next year and despite concern over the knee, he'll likely return to form. Question is, does Dallas want him back?
He's expiring this summer and is a $10 million a year player. The free agent market this summer is a bit thin but if the Mavs have visions of
Dwight Howard
,
Deron Williams
or maybe Chris Paul in 2012, locking up Butler and/or Chandler for multiple years will have major consequences in getting a big deal done like that in the future.
3. Do they need to get a little younger?
Everyone knows the Mavs are old.
Jason Kidd
is 58. Dirk is something like 52. Ballpark figures, of course (38 for Kidd and 33 on June 19 for Dirk are the actual numbers). They only have a couple of young players (
Roddy Beaubois
, J.J. Barea,
Dominique Jones
,
Ian Mahinmi
,
Brian Cardinal
-- just making sure you were listening on that last one). Pretty much every key player on the roster is in their late 20s or 30s.
But this isn't a franchise that operates on a long-term sustainability mindset anymore. They've already had their long-term sustainability and it finally paid off. They've won at least 50 games for 10 straight seasons and now have a championship. At some point the Mavs will have to start over, but not now. They have a few good years left with Dirk, Jason Terry can still play and Rick Carlisle is a wonderful coach. Cuban will spend big when he has to, but for now, they can stay as old as they want because it didn't hurt them a bit this year.
4. Where can they improve?
It's always a funny thing to ask after a team wins a title because if this roster was good enough to win it all once, why can't they do it again? But the reality is 29 other teams will spend a summer trying to get better -- or 28, depending on your view of the
Timberwolves
-- so Dallas can't stand pat and hope Dirk is unreal again next year.
The Mavs need to lock up J.J. Barea and keep him as part of the core. But they could get better at shooting guard for sure. Jason Terry sees the bulk of those minutes and
DeShawn Stevenson
played his role well, but the vision is Beaubois in that spot. Either he gets it together, or the Mavs find a replacement.
Shawn Marion
was wonderful in the postseason, but that may have been a last hurrah. A little more depth behind him at small forward is definitely something the Mavs should look at.
5. Can they repeat?
Can they? Absolutely. When you have a Nowitzki, you are a threat in every single situation.
But let's face it -- a lot went right for the Mavs in these playoffs. They got hot at the right times, got huge unexpected efforts from
Peja Stojakovic
, Shawn Marion, J.J. Barea and even Ian Mahinmi at one point. Brendan Hawyood hit free throws. They had games where they hit 75 3s (again, slight exaggeration -- that would be a record of some note).
They were the best team, no doubt, but it would be a lot to ask to have another perfect postseason next year. The Mavs will be very good again next year because they always are. Are they contenders? For sure. But I wouldn't put them as a favorite or anything. Which is probably just how they like it.