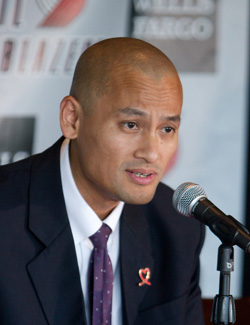 Posted by Royce Young
The
Bobcats
announced that they have hired former Portland general manager Rich Cho as the organization's new GM. Cho replaces Rod Higgins as the team's GM, with Higgins moving up to President of Basketball Operations.
Cho got his start in basketball management with the Oklahoma City
Thunder
franchise, eventually assuming the No. 2 role behind Sam Presti before taking the
Trail Blazers
position. However, Cho parted ways with the Blazers last month because of what were called "chemistry issues" with owner Paul Allen,
A smart basketball excecutive like Cho wasn't going to go unemployed for long, though. He was immediately considered a candidate in New York after Donnie Walsh didn't come to an agreement with the
Knicks
. The Bobcats position wasn't really open but evidently Michael Jordan put in a call pretty quickly to swoop up Cho.
Cho's known for his analytical approach to the game. He was an engineer and a lawyer before moving into NBA front offices. He was responsible for contract negotiations, salary cap and Collective Bargaining Agreement matters, player contracts and all player personnel issues.
Cho is a native of the Pacific Northwest and a member of the Washington State Bar, a graduate of Pepperdine Law School and achieved his undergraduate at Washington State University.
"He has a unique set of skills that I don't possess," Higgins told the Charlotte Observer. "His analytical mind is a big plus for us. His legal background is a big plus for us."
Cho of course has a connection to the Bobcats having negotiated with Higgins at the trade deadline last season. The Blazers acquired
Gerald Wallace
for Joel Pryzbilla,
Dante Cunningham
, Sean Marks and two draft picks. Higgins must've come away impressed. At least someone was.