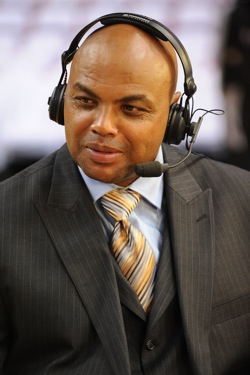 Posted by Royce Young
Another day, another chance for Charles Barkley to talk about the Miami
Heat
. To recap so far:
He's hammered on LeBron for The Decision all year.
He made fun of the welcome party.
He called them a "whiny bunch" twice.
He flipped off a group of Heat fans.
He told Heat fans he's got a better life than them because, I'm paraphrasing, "they all work at McDonald's."
That's just some of it. Barkley hasn't taken the Heat lightly at all this year so with them falling short in the NBA Finals, Barkley has gone on basically every radio show that's asked him and ripped on them a little more while they're down.
First up, LeBron's comments saying about his critics, "At the end of the day they have to wake up tomorrow and have the same life that they had before they woke up today."
As he told WIP Philadelphia with Howard Eskin and Ike Reese:
"I do feel bad. I tell you LeBron is a good guy who said some stupid stuff. He is a good dude and he is going to get crucified. He deserves some of it. He does deserve some of it, but I do feel bad because he is going to get crucified. He's a good dude who says stupid things sometimes. He shouldn't have said to the public."
The host then said, "His comments demean 99 percent of his fans that don't have the kind of money that he has?" Barkley's response:
"Listen, LeBron is a really good dude who has not made a bunch of very good of statements in the last year. The thing that has really bothered me about this team is they would never admit they made any mistakes. Dwyane [Wade] is a great guy and LeBron [James] is a great guy, but they actually don't think they've done anything wrong. That's what makes me laugh about this whole scenario."
Barkley does a pretty good job of not taking on that question directly because if he had and subsequently ripped LeBron for it, well, he would've been quite the double-talker. Because he said virtually the EXACT same thing with his McDonald's comment. Barkley's line about LeBron can really be applied to himself as well.
He's a good dude who says stupid things sometimes.
Heck, that kinds of describes most of us, myself included.
Barkley was then asked about LeBron's tweet that said, "The Greater Man upstairs knows when it's my time. Right now isn't the time."
"God is a Dallas Mavericks fan! Howard, I hate that. I hate that more than anything in the world because the notion that God has a favorite team. I think that is one of the most…I hate when guys say that. You thank the Lord for having great health, but the notion that the Lord likes one team better than the other. I hate when guys say that. That's just stupid."
Yeah, that's not at all what LeBron meant. The guy can't catch a break for anything.
Kevin Durant
has said almost the exact same things and people just go awwwwwww. LeBron lives in a different world, but people have taken that tweet and slayed him for it.
Host: Isn't that another way to not take responsibility?
"Yeah no question. I wish LeBron…I wish he would say 'Hey you know what congratulations to the Dallas Mavericks. They played fantastic. Congratulations. We had a good season, but we got to get better and I got to play better.' That would have been the perfect tweet. You congratulate the Mavs and you say 'You know what? We had a good season. We had a good season, not a great season, but I've got to get better.' I was doing an interview earlier today and the guy said 'What would you tell LeBron James?'

I said tell him to get his ass down in the post and learn to post up because right now I'm not even sure what position he plays. Let's take away all this noise going on. As a basketball player I'm like for a guy that big and that strong to be standing out there and jacking up jumpers all night. It's like 'Dude take your big strong ass down on the box and post up!' He would get 'X' amount of points on the fast break finishing, but he's got to learn how to post up. He's a big ole' strong boy like every time he shoots a jumper the defense is like 'Thank you lord. Thank you for making him shoot a jumper because I don't want that big coming at me full speed.'"
That's just a taste of Barkley's thoughts on the Heat. And I'm sure it won't be his last word either.