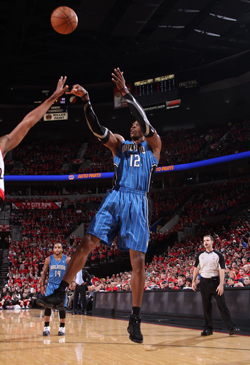 Posted by Royce Young
Dwight Howard
has never hinted at leaving the Orlando
Magic
. In fact, everything he's said has leaned toward the opposite. He's said he loves Orlando, wants to stay if possible and doesn't anticipate leaving.
But he's still becoming a free agent.

Via NBA.com:
Dwight Howard reaffirmed his desire to stay with the Magic, but told NBA.com on Monday that he will definitely become a free agent rather than sign an extension in the next year and also left open the possibility he would reconsider his future in Orlando if the team does not win the title next season.

Speaking during a break at the adidas Eurocamp as part of a tour of the continent for the shoe company, Howard joked with reporters at a news conference and appeared in good spirits.

In a one-on-one interview afterward, though, he made it clear he is not happy with the collective personality of Orlando's roster and that changes need to be made. The same message, he said, was delivered to owner Rich DeVos and CEO Bob Vander Weide in a meeting last week that included Howard sharing thoughts on everything from personnel to fan involvement and arena atmosphere at home games.

"I want to win a championship," the All-Star center said. "I think the owners have to really know that. That's been my goal and my mission since I've been in the NBA -- to win a championship. I don't have side goals or agendas. My main goal is to win a championship. I want to have 14 other guys who feel the same way."

Asked if the Magic have that now, he said, "It's off and on. Sometimes guys are there whole-heartedly and then sometimes I've had teammates allow people getting in their ears and things like that effect the way that they play and approach the game."
The Magic have had a two-year extension on the table for Howard for some time, but he's obviously not touching it. Two years is the longest deal the Magic can offer under the current Collecitve Bargaining Agreement. Of course that expires June 30 though.
A report a couple weeks ago said
that Howard was working on the two-year extension. Doesn't look like that's happening.
Howard once again reiterated though that he wants to stay in Orlando.
"There's no other place I'd rather be besides Orlando," he said. "As of right now, that's my home. I just want to stay in Orlando as long as I can.
"That's the truth. I don't have to keep things calm or anything. This is how I really feel in my heart. A lot of people want to see me go other places, but I want to stay in Orlando. I have a beautiful home there. There are beautiful people down there. My son is in Orlando. He's getting a lot older and I want to be there to see as many moments as I can of his life."
He was then asked if the roster doesn't change or if the Magic don't compete for a title next year.
"Then things have to change," he said.
Does that mean moving?
"At the end of the day, as far as what I want to accomplish as a basketball player, to be one of the greats, you have to win championships," he said. "That's how I see it. I want to do that in Orlando, and hopefully we can get it done.... Everybody's asking me from the beginning of the season until today where am I playing in a year? Am I getting traded? I have no clue. As of right now, I want to be in Orlando."
It really sounds like Howard is speaking honestly, but we've all been through this rodeo before. We've heard players say this and do something different. General manager Otis Smith has definitely tried his best making a number of bold moves to get Orlando over the top. They haven't worked out as of yet, as the Magic have made it to one NBA Finals, getting swept by the
Lakers
.
Just because Howard wants to be a free agent doesn't mean he's leaving. It's that he wants a sense of what's next and as they say, wants to keep his options open.