Posted by Royce Young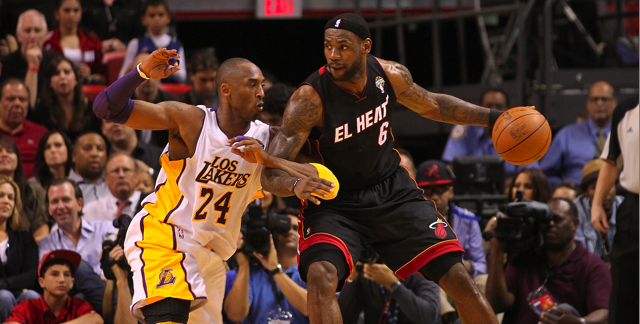 The Kobe or LeBron thing has been one of basketball's most annoying arguments over the past few years. It always had a pretty obvious answer, but we debated it like it was really a great question. As a result, it drummed up kind of a made-up rivalry between the two, even though they've never met anywhere outside of the regular season.
So this isn't exactly Russell versus Wilt here.
But Kobe, the ultimate competitor he is as well as kind of a butthole (I mean that in a good way), fired off a little message to LeBron after the
Lakers
beat the
Celtics
in Game 7 of the NBA Finals last year for Kobe's fifth title and shortly after LeBron declared where he was taking his talents.
Via the OC Register:
Bryant's Lakers beating the Celtics in Game 7 finished the story of the 2009-10 season before James' navigation of free agency hijacked the headlines. So Bryant detached himself from celebrating the championship he now admits means more to him to any of his previous four because of how hard-earned it was to offer a message to LeBron that could never have come from anyone but.

It went like this from Kobe:

"Go ahead and get another MVP, if you want. And find the city you want to live in. But we're going to win the championship. Don't worry about it."
As Kevin Ding says in his piece (read the whole thing, it's terrific), that's just so Kobe. Cocky, arrogant, kind of funny, confident and at the time completely justified.
Turns out though, the
Mavericks
prevented either from celebrating anything. LeBron didn't get another MVP and Kobe didn't even get to the Western Conference Finals. So while that was a fun text to send at the time, it's not so fun now.
A lot of people will take this message from Kobe out of context but clearly LeBron and Kobe have a good give-and-take relationship. Kobe had just finished off winning his second straight title and LeBron had won two straight MVPs. So he had every right to be a little cocky about it. Kobe was nothing but complimentary of the
Heat
and talked about how he was pretty stunned when he heard about the trio teaming up.
This is kind of what some have felt the NBA has been missing for a while now. It's turned into a buddy-buddy league with guys all close to each other even if they're on opposite teams. And while Kobe's message wasn't mean-spirited, it was a competitive, direct point: Get ready LeBron. I like that. I think there should be more of it.
Always better to back it up though.