Posted by Royce Young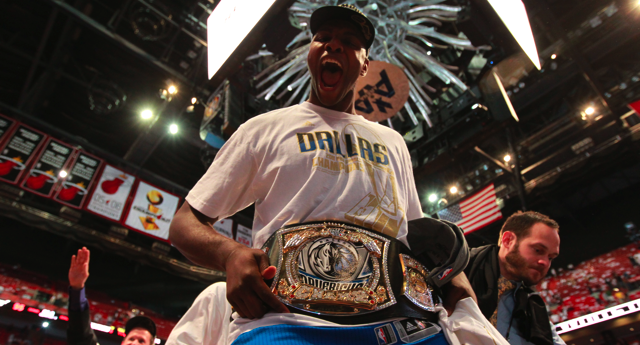 It was pretty awesome that the
Mavericks
took their brand new championship trophy to a Miami club to celebrate after winning Game 6. No better place to party than Miami so I guess it was pretty convenient that Dallas just won the title there.
But a couple
Heat
fans took the Mavs dancing on their turf a little personally I guess.
Brendan Haywood
was on
106.7 The Fan in Washington DC
and explained.
What was the party like in Miami as the Mavericks celebrated in a club?:

"It's crazy because you walk in … and Dirk was there, everybody was there, Mark Cuban was there. He's the only NBA owner that would be in there partying with his players, but he's in there partying with the NBA trophy. … It's just a great time. … There was a couple Miami fans that didn't like that we were partying in their city, but hey man, it is what it is."

What was it like to see those Miami fans?:

"There was some people that when we walked into the club with the Larry O'Brien trophy they were throwing ice at the trophy. We weren't worried about it, because you can hate all you want to but that night, that was our moment. No one was going to ruin it. Haters can't ruin your moment."
At certain moments, that Miami fanbase shows up in weird ways. Like when they chanted "F--- you Chuck!" at Charles Barkley during the Eastern Conference Finals and threw stuff at him. They didn't perform all that well during the playoffs and Mark Cuban even said Mavs fans "punked the s---" out of them, but they got some semblance of revenge. They threw ice at the trophy. Way to go, Heat fans.
Via Sport Radio Interviews