The Miami Heat have extended a qualifying offer to guard Mario Chalmers. Posted by Ben Golliver.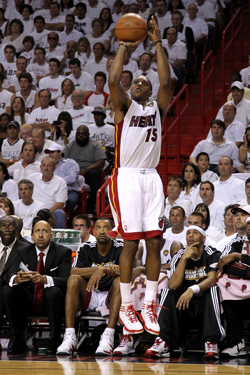 In a procedural move, the Miami Heat announced on Wednesday that they have extended a qualifying offer to point guard Mario Chalmers. Doing so makes Chalmers a restricted free agent, allowing the Heat to match any offers made to Chalmers.
Chalmers, a 6'2", 190-pound guard, has appeared in 225 regular season games (132 starts) averaging 7.9 points, 3.7 assists, 2.3 rebounds, 1.45 steals and 26.7 minutes while shooting 40.9 percent from the field, 35 percent from three-point range and 77.8 percent from the foul line. Among Miami's all-time leaders, he ranks eighth in steals (327), tied for ninth in three-point field goals made (272), 12th in assists (826), 19th in minutes (6,012), tied for 19th in games played (225) and 22nd in three-point field goal percentage (.350).

In 33 career postseason games (eight starts), he averaged 8.1 points, 2.7 assists, 2.1 rebounds, 1.52 steals and 26.4 minutes while shooting 43 percent from the field, 36 percent from three-point range and 75 percent from the foul line. During the 2011 NBA Finals, Chalmers increased his postseason averages in the six-game series against Dallas in points (11.8), assists (3.5), rebounds (2.7), minutes (29.0) and three-point field goal percentage (.400).
Extending a qualifying offer was a no-brainer, considering that the size of the offer is for just $1.1 million. Chalmers, 25, was used off the bench for much of the season but played starter-type minutes and fits pretty nicely alongside the Big Three of
LeBron James
,
Dwyane Wade
and
Chris Bosh
.
Without another point guard on the books for next year, one would assume that the Heat are very motivated to keep Chalmers. It's unclear what the market is for his services but given the lack of quality point guards on the market this summer and a weak draft crop, he should elicit some interest. It might be going too far to assume that his return to Miami next season is a foregone conclusion, but it's also difficult to imagine someone offering him so much money that Miami fails to retain him given their positional need and his solid fit.
If I'm Miami, I might explore the option of signing him to a multi-year extension. He's a known quantity, he can be used as a starter or off the bench and he held up fairly well under the spotlight. Surely South Beach -- and the opportunity to compete for multiple titles and revenge the 2011 NBA Finals loss -- would be his preference too. In a normal year, reaching an extension agreement makes all the sense in the world. Given the looming CBA issues, though, who knows.