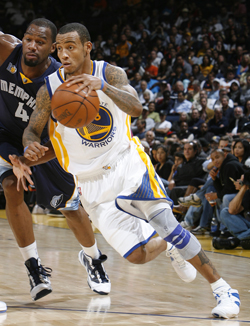 Posted by Royce Young
By all accounts, the
Warriors
are very much shopping guard
Monta Ellis
around.
Ken Berger of CBSSports.com reported last week
that talks were "heating up" about a deal sending Ellis to Philadelphia.
But there was also some push back
from owner Joe Lacob and new coach Mark Jackson about that, indicating the Warriors aren't moving Ellis.
And now via an interview with SI.com,
Warriors general manager Larry Riley emphatically said the team isn't shopping Ellis.
"We are not shopping Monta Ellis. It is business as usual here. I think you have to look at what just happened in the Finals — it seemed like Dallas played pretty small guards throughout that series with Miami and did a pretty good job of it. Our problem is not the small backcourt. Our problem is defense."
Our problem is defense
. Aren't you basically saying, "Our problem is Monta Ellis" then? (Along with
Stephen Curry
, of course.) That back court simply can't match up with other big back courts throughout the West. Riley cites the Mavs, but that was a specific matchup situation and Rick Carlisle managed those rotations wonderfully.
As far as Riley saying the team isn't shopping Ellis, you can't call him a liar, but you can't believe it entirely. I believe him. The team probably isn't actively shopping Ellis around. But when someone calls and says, "Hey, do you want
Andre Iguodala
?" and Riley says, "Who for?" and the other GM says, "How about Monta?" I don't think Riley is responding, "We're not shopping Ellis." There's a difference between actively listening and actively shopping. And I think the Warriors are doing a whole lot of listening with Ellis.
They realize the back court of Ellis and Curry isn't really a favorable one, especially with Jackson wanting to establish more of a defensive mindset. They need a little size, but how do you slash into those players' minutes?
Ellis might be moved and we'll all say, "Hey, Lacob, Riley and everyone else said they weren't shopping him!" But in reality, they probably weren't. Doesn't mean they won't trade him though.