Jimmer Fredette says he performs well in his highly-anticipated workout for the Utah Jazz. Posted by Ben Golliver.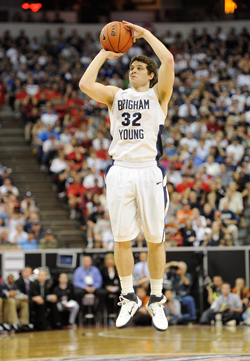 The immense pressure on the Utah Jazz to draft BYU guard Jimmer Fredette just got bumped up a big notch.
Last week, we noted
that Fredette or his camp had publicly challenged Kentucky guard Brandon Knight and UConn guard Kemba Walker to a head-to-head workout.
On Wednesday, Fredette got his wish, or at least half of it, working out against Walker in front of the Jazz.
The
Salt Lake Tribune reports
that Fredette spoke confidently of his performance after the workout.
"I thought it was one of my better workouts. I really did. I thought I played very well," said Fredette, who competed against Walker, Malcolm Lee (UCLA), Josh Harrellson (Kentucky), Senario Hillman (Alabama) and Paul Carter (Illinois-Chicago) for more than an hour at the Jazz practice facility.
Fredette impressed Jazz coach Tyrone Corbin.
"This cat really competes, and he hates to lose," Corbin said. "He's a good kid. He really likes to play, and that shows in everything that he does on the floor -- along with his scoring ability. Everyone knows him for putting up numbers on the board. But I think he's a more complete player than a lot of people give him credit for."
The
Tribune
also
noted on Twitter
that while Corbin wouldn't say whether Fredette outplayed Walker, he at least held his own: "Jimmer wasn't outplayed by Walker. Definitely held his own, according to four other players involved in the workout."
Fredette
told the Deseret News
that he thinks staying in Utah would be a good fit.
"Yeah, it would be a great place," he said. "I just think it would be a great fit for me basketball-wise. I'd fit into the system. They need a guy who can stretch the floor, get into the lane, get other guys involved and that plays right into my strengths."
Knight, meanwhile, will reportedly only work out by himself for the Jazz.
The Jazz hold both the No. 3 pick and the No. 12 selection. While management has maintained that it won't bow to public pressure when it comes to Fredette, another solid showing against elite competition certainly can't have hurt his standing.