Miami Heat forward Chris Bosh explains why he cried following the 2011 NBA Finals. Posted by Ben Golliver.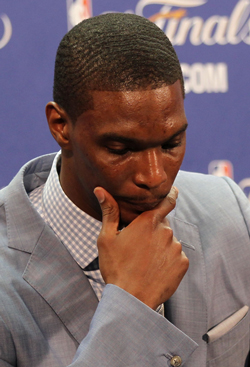 It was
one of the most memorable scenes
of the 2011 NBA Finals.
Miami Heat forward Chris Bosh collapsed to his knees in the tunnel following his team's Game 6 loss to the Dallas
Mavericks
, forced to use his arms to brace himself against the ground as his body seemingly gave out. Soon after, he was shown wiping his face as he walked through the tunnel. Teammate
Erick Dampier
had his arm around Bosh's waist to help him balance. One
video of Bosh's reaction
drew more than 600,000 views on YouTube.
The Miami Herald reports
that Bosh says he was as overwhelmed by the Heat's loss as he looked on videotape.
The air gushed out of Bosh, and he fainted to the floor. It wasn't so much a letdown as a crash.


"I haven't experienced that pain in a very long time," Bosh said. "To be so close and work so hard and come up short, it just got to me. It took over me.

"I'm not an emotional guy. I couldn't help it. I got it out of me and feel a lot better."
The scene will endure for years for a unique combination of reasons. One: the obvious symbolism of Miami falling apart in the Finals, collapsing under the pressure to lose the final three games. Two: because Bosh is such a maligned and polarizing figure. Three: outward expressions of emotion are rare in sports and almost always kept in private.
Four, and perhaps most important: because Bosh's reaction -- the loss consuming him -- was so different from the reactions offered by
Dwyane Wade
and
LeBron James
, who did their best to remain stonefaced and emotionally distant after their first season together ended in failure.
Extending that thought, did Bosh invest himself more deeply in this Finals than James or Wade? His failures weren't a matter of effort. Rather, the Heat struggled to maximize his offensive potential and weren't able to consistently keep him involved. He bears responsibility for that, but he shares that with Miami's ballhandlers and coach Erik Spoelstra, too.
James and Wade, though, went out with a composed facade, but they also went out without really swinging. All the "back against the wall" talk evaporated as the Mavericks pulled away in Game 6, on Miami's home floor to boot. In Bosh's tears, it's reasonable to see someone that tried and failed, his best not good enough. James' and Wade's blankness, in conjunction with their flat play late in the series, raises the question of whether we can say the same thing about them.