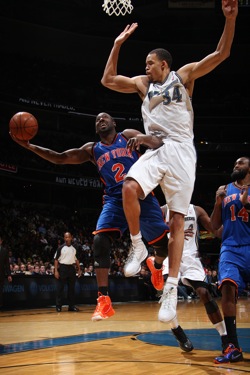 Posted by Royce Young
There has been quite a bit of talk that the
Wizards
are looking to move up in the draft from No. 6 to as high as No. 2, as they seem to have their eye on Derrick Williams.
But to move up, you have to give up something in exchange. Not everyone lucks into a trade like the one the Wolves and Wizards had right before the draft that sent the No. 5 pick to Minnesota for
Randy Foye
and
Mike Miller
. And the player's name that keeps coming up is
JaVale McGee
, Washington's freakish seven-foot center.
Not happening though,
says the Washington Post.
"The Wizards may have interest in moving up to getting a desired player, but this draft -- with so many question marks from top to bottom -- isn't the one that would convince the team to sacrifice McGee, a player that it has spent the past three years developing into a serviceable center in a league that is experiencing a dearth in talent at that position. With so much uncertainty atop the draft, the Wizards believe that a player that can help the team might very well be available at the sixth pick."
McGee has been mentioned in trade talks for pretty much the last three years, and after an altercation with
Andray Blatche
earlier in the year, some of that heated up. Owner Ted Leonis always put that fire out, and it appears that the Wizards don't want to trade McGee.
And why should they? He's still extremely young (just 23) and has an incredible amount of untapped potential. McGee is already a pretty productive player, but if he could ever start to figure some of his talent out, he could be the same type of impact player as
Tyson Chandler
.
Derrick Williams would definitely be a prize to acquire, but it sounds like the Wolves are warming to the idea of adding Williams alongside
Kevin Love
and
Ricky Rubio
. Doesn't appear that the Wizards and Wolves are going to get together on another draft day trade.