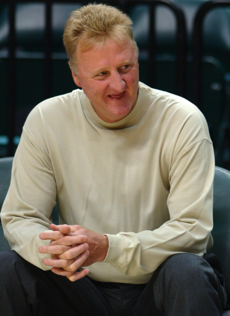 Posted by Royce Young
LeBron James
is 26 years old. He's got at least five to seven more years of basketball in his prime which means he has quite a bit of time to re-write all this legacy talk that's dominated headlines over the past week.
So he lost in the NBA Finals. For a second time. Doesn't mean he's got to retire a loser forever now.
Nobody keeps perspective quite like the former all-time greats. They understand what it means to be a champion and the road it takes to get there.
Isiah Thomas came to LeBron's defense
saying James is just going through things that all stars go through. And Larry Bird -- who when The Basketball Jesus speaks, you listen -- said not to worry too much about LeBron because his time will come.
Via Sports Radio Interviews,
Bird was asked if he feels bad for LeBron because of all the recent criticism:
"He brought a lot of it on himself, but here's what I feel about LeBron: he's as good as anyone that's ever played this game. I think he's going to win a lot of titles; I think he's going to continue to get better. To me, he's an amazing athlete, he's never been hurt, he's got the body of a football player and he's got skill. I just think he's off the charts good.

And I think his time is going to come. I think they did a remarkable job in Miami this year bringing that team together and getting where they got. They'll get better next year. Their time is going to come if he stays healthy, and he's going to have a lot of success in this league and win championships."
People like me can say that stuff like that over and over, but when Larry Legend says it, it makes a lot more impact. LeBron's time will come. He's too good for it not to.
Bird sort of took the Scottie Pippen side of things saying LeBron is "as good as anyone that's played this game." And in terms of pure talent, I don't think you can really disagree. But LeBron's not the total package yet. He's got work to do and rings to win before anyone is willing to place him anywhere near an all-timers list.
But there's a lot of time left and a lot of chapters left to be written in the LeBron Legacy. I wouldn't write him off quite yet.