Minnesota Timberwolves president David Kahn reportedly assigned coach Kurt Rambis a report on how to improve the team. Posted by Ben Golliver.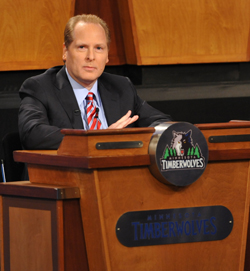 Flush with confidence after
finally landing
Spanish sensation
Ricky Rubio
after years of waiting, Minnesota Timberwolves president David Kahn has reportedly taken an unusual step in managing his head coach.
Kahn has kept coach Kurt Rambis in limbo since the season ended, with rumors swirling around his job. Now,
the Star-Tribune reports
that Kahn made Rambis write a report about improving the team.
Kahn said on Friday that he asked Rambis to write an extensive, detailed report about his team and the changes he would make if he comes back for a third season as head coach in Minnesota. Kahn said he asked Rambis to complete the report in mid May, and the coach turned it in last weekend, setting up a series of meetings this week.

Kahn and Rambis met for four hours on Thursday night and were scheduled to meet for another few hours on Friday.

"I really asked him to be as comprehensive and as thorough as possible. ... And I assured him that we would meet before any decision was made and this was really the quickest day that we could meet," Kahn said Friday in his first comments about the coaching situation since the season ended on April 13.
I offer this report to Rambis to use free of charge.
Thesis statement: Improvement will come with competent drafting. Supporting arguments:
Jonny Flynn
,
Wayne Ellington
,
Wesley Johnson
.
It's unclear whether Kahn intended it to come off like this, but this news just screams condescending and demeaning. Plans are great, scouting reports are wonderful, but making it known publicly after weeks of uncertainty that you're requiring your head coach to save his job by making him resort to a grade school staple is just too much, even for Kahn.
If Kahn needs a report to gauge whether his coach should stick around, he probably shouldn't be empowered as the franchise's lead decision-maker. If this is just a dog-and-pony show, which is what this feels like, it comes off as confrontational and divisive rather than inspiring and clear-headed. How does that help a struggling franchise turn things around? Doesn't it do more harm than good?