Hall of Famer Magic Johnson takes to Twitter to bash New York Post columnist Peter Vecsey. Posted by Ben Golliver.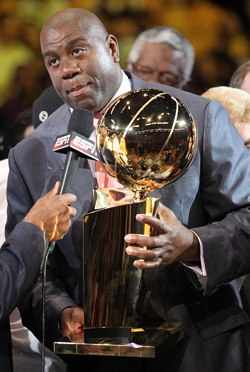 Boy, it's been a tough week for New York Post NBA columnist Peter Vecsey.
First, Vecsey was
sued for libel
by an ESPN writer upset with something he had written about the
Carmelo Anthony
trade negotiations with the New York
Knicks
last winter.
Then, Basketball Hall of Famer and NBA legend Magic Johnson
took to Twitter
to bash Vecsey, who used to appear on NBC's television broadcasts of the NBA.
"Is Peter Vecsey still on TV? That's right, no, because he wasn't very good.

"For those of you who don't know, Peter used to be a powerful figure in the NBA back in the day, but now he's the low man on the totem pole."
What prompted these comments? We can't be totally sure, but
a recent Vecsey column
included a shot at Johnson.
A former player finds it unreal for Magic Johnson to go an entire Finals as an ABC analyst without offering the slightest insight whatsoever. "I assume he remembers something about the game."
Somewhat improbably, both men are correct here.
Johnson isn't particularly insightful or engaging in his NBA analysis these days. Sure, he's still got the Magic charisma, but he's not dropping knowledge bombs left and right.
And Vecsey isn't nearly as well connected as he once was, as evidenced by his swing and a miss on the Anthony trade talks. His one big get in recent years was the
Gilbert Arenas
gun in the locker room scandal, but some of the details in his original report didn't entirely hold up.
Does this war of words really amount to anything?
Probably not. But Vecsey isn't one to take a shot without responding, so this could just be the beginning.