BYU guard Jimmer Fredette has reportedly been invited to the green room for the 2011 NBA Draft. Posted by Ben Golliver.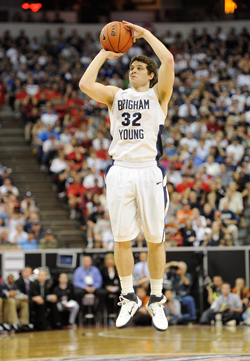 Jimmer Fredette apparently isn't all hype.
The much ballyhooed guard was a national sensation as a senior at BYU, but many questioned how his game and physical tools would translate to the NBA level.
The early indications are that Fredette will translate at the lottery-pick level.
The Salt Lake Tribune reports
that Fredette has been extended an invite to the green room for next week's 2011 NBA Draft.
Former Brigham Young guard Jimmer Fredette has been invited to the famed green room for the 2011 NBA Draft, which is scheduled next Thursday in Newark, N.J.

Only draft picks expected to be taken with selections 1-14 are normally allowed in the green room.
A green room invite isn't a total guarantee that you'll be picked in the first half of the first round, but those invites aren't handed out lightly.
This news will certainly fuel speculation as to where Fredette will land. Teams that have reported interest in him include the Sacramento
Kings
at No. 7, the Utah
Jazz
at No. 12, the Phoenix
Suns
at No. 13 and the Indiana
Pacers
at No. 15.
At this point, given all the buzz surrounding his draft workouts, it would be very difficult to see him falling past the Pacers, and the public pressure for the Jazz to take him at No. 12 is immense.