The New York Knicks are reportedly considering trading for Minnesota Timberwolves point guard Jonny Flynn. Posted by Ben Golliver.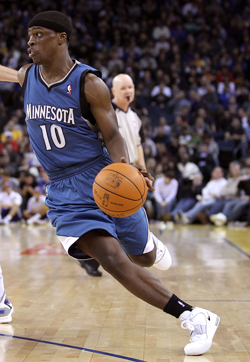 Clear the decks for
Ricky Rubio
!
The Minnesota Timberwolves have finally convinced the Spanish point guard to come to the NBA for next season. That means the team must now resolve a problem created when the Timberwolves drafted two point guards in the first six picks of the 2009 NBA Draft.
The easiest way to make sure that Rubio has enough playing time and space to get acclimated to the NBA game? Ship out Flynn, of course.
The New York Daily News reports
that the Timberwolves and New York Knicks have discussed a Flynn trade.
The Knicks have had preliminary discussions with the Minnesota Timberwolves about a trade for point guard Jonny Flynn.

No formal deal is in place, but the Knicks are debating whether Flynn, the sixth overall pick of the 2009 draft would be a viable option to back up Chauncey Billups for at least one season. Flynn has become expendable now that the Wolves have signed Spanish guard Ricky Rubio, who was taken one pick ahead of Flynn.

Toney Douglas would likely be the player traded for Flynn.
If All-Star appearances were handed out based on personality, Flynn would be a perennial selection. Unfortunately, a back injury and a rough transition into coach Kurt Rambis' triangle offense have stunted his growth as an NBA player.
To date, he's proved to be a jitterbug that can provide some scoring punch but not much else. Flynn's fit as a backup point guard would be slightly better than Douglas' but not markedly so. Both are scoring guards, but Flynn has more upside as a distributor. It's quite possible he looks much better as a playmaker when he's sharing the court with
Amar'e Stoudemire
and
Carmelo Anthony
rather than
Darko Milicic
and
Martell Webster
.
A change of scenery will no doubt do Flynn a lot of good. Trading for Flynn, who's coming off an injury and playing for a terrible team for two years, is the definition of "buying low." One concern: He is on the books for $3.4 million next season, which is a bit more than teams like to pay for a relatively unproven backup point guard.
The Knicks, of course, have bigger questions at point guard. They will need to move Billups at some point if they hope to become a true championship contender. This trade is definitely one you consider from New York's perspective. The more talent you get behind Billups the better. Flynn's quickness would seem to be a major asset in coach Mike D'Antoni's up-tempo system.
This wouldn't be a game-changing move for the Knicks, but Flynn's charisma seems like a natural fit at Madison Square Garden.