The Maloof family, owners of the Sacramento Kings, will sell their majority stake of the Palms casino. Posted by Ben Golliver.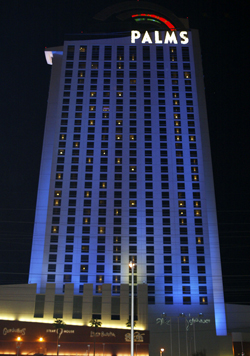 Everything you thought you knew about the financial troubles for the Maloof family, owners of the Sacramento Kings, just got confirmed in a major way.
The Sacramento Bee reports
that the Maloofs are about to lose majority control of the crown jewel of their portfolio, the luxurious Palms Casino in Las Vegas, and are barely holding on to any stake.
The Maloof family will soon own just 2 percent of the Palms Casino, its trendy Las Vegas property, according to regulatory documents filed in Nevada.

The revelation comes just days after George Maloof, who runs the resort and is a co-owner of the Sacramento Kings, confirmed that his family had given up majority control of the casino and hotel, on which it spent about half a billion dollars over the past decade. At the time, he would not specify the size of the family's remaining ownership stake.
The paper notes that the new deal relieves the Maloof family of its debt burden and that the family can potentially buy back in.
The Palms was originally constructed in 2001 with a second tower opening in 2005. Soon after, a national economic recession took place and Las Vegas, which relies heavily on tourism, was hit hard.
The family has made a number of other moves recently to cut back on their holdings. In 2009, the Maloofs sold their beer distributing firm. Also in 2009, they folded their WNBA team and made staff cuts with the Kings.
The Maloofs attempted to move the Kings to Anaheim this year, but the move was met with resistance from Sacramento fans and, ultimately, the NBA. The Maloofs pledged to keep the Kings in Sacramento for another year while efforts to finance a new, more profitable arena continue.