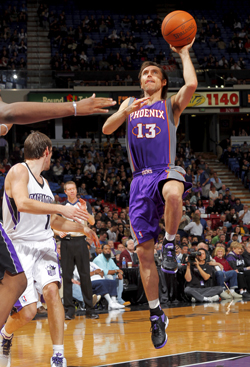 Posted by Royce Young
It's a dance that's been going on ever since Mike D'Antoni took the head coaching position in New York.
Steve Nash
to the
Knicks
.
It's never really heated up to a boiling point, but always stayed at a whisper. And there's a new whisper
via the New York Post.
"There have been renewed whispers the Knicks have inquired about Nash, who lives in SoHo in the offseason. The Knicks have talked internally about trading Chauncey Billups for Nash as both have expiring contracts. But there does not appear any reason for Suns owner Robert Sarver to make a move and give Mike D'Antoni a chance to reunite with his favorite son."
The Suns have strongly denied every rumor of trading Nash and Nash himself has always said he's extremely happy in Phoenix. But he's 36 years old and his contract expires after next season. What comes then for Nash? Does he re-up with Phoenix or look elsewhere? Or does Phoenix look to dangle a very attractive trade piece at the deadline?
You can be sure if they did, the Knicks would be the first team placing a call. Despite the idea to play better defense, Nash is the perfect maestro for the Knicks. He's already great with
Amar'e Stoudemire
and with a scoring wing with talent like
Carmelo Anthony
, that would be a pretty lethal trio.
But the trade proposed here -- a straight swap for Billups -- makes zero sense for the Suns. They aren't just going to give away Nash. Billups is a nice player and their salaries line up, but Phoenix will be looking for a future rebuilding move if Nash is moved. Not something like aging point guard for aging point guard.
With Nash expiring next season though, prepare yourself to read this rumor at least two thousand more times. The New York media wants Nash there almost as much as D'Antoni and the fans do. It doesn't seem like Nash is just going to finish his career in Phoenix on an average team. It seems like he'd give a title shot one good last swing.
And maybe that comes in New York.