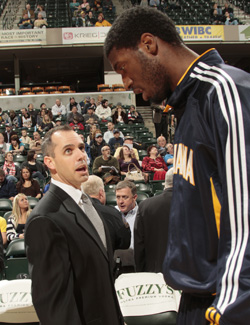 Posted by Royce Young
Ken Berger of CBSSports.com wrote yesterday
that if the
Timberwolves
were to trade the No. 2 overall pick, they'd have to be "blown away" by an offer.
Well according to Yahoo! Sports,
they got another offer. Does this one blow anyone away?
Reportedly, the
Pacers
offered big man
Roy Hibbert
and their No. 15 pick to Minnesota in exchange for the No. 2 pick, which would've been used on Derrick Williams. The Wolves were not blown away and turned that one down.
Wise move, David Kahn. Hibbert doesn't necessarily give you a real building block to success, especially when you consider you're giving up Williams, a pretty quality talent, in the process.
Interesting though that the Pacers offered Hibbert. The Indiana center made some huge strides in his game last season and at 7-3, is the kind of big man most teams crave. But he's inconsistent and sometimes fades out of games and gets in foul trouble. Not exactly worth the No. 2 pick.
But if the Pacers would've taken Williams, that tells me they're also interested in maybe moving
Danny Granger
. Williams and Granger are similar players playing similar positions. Keepign Granger might've stunted Williams' development which means Granger could've been dealt and some of the Pacers cap space opened up.
Really, that's a much more reasonable deal anyway. Hibbert, Granger and the No. 15 pick for Minnesota's No. 2 pick. Who says no there? The Pacers are probably giving up too much, but considering they want to clear cap space, that would get done in this deal. Now that deal might've blown them away.