Posted by Royce Young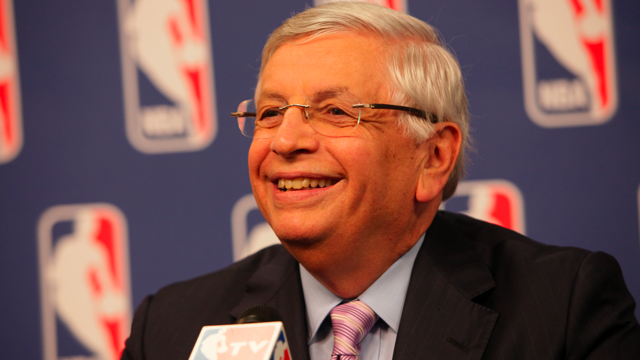 If you listen to, well, everyone, today is a massive day for NBA labor negotiations.
Ken Berger of CBSSports.com reports
the players will submit a new formal proposal, and the owners are expecting it to represent enough of a shift in their position to warrant further negotiation.
Good news. I think.
David Stern called Tuesday a "very important day for these negotiations."
Some of that is certainly posturing. But it's mostly real. The clock is ticking toward midnight and when it strikes on June 30, the league could be headed for its first summer work stoppage since 1998. That's a bad mark to put on a league that's built an incredible amount of momentum in the past season. To slap fans in the face with a lockout and conjure up conversations that go, "It's billionaires arguing with millionaires over money," isn't good for anyone. Owners, players, the league -- not anyone.
Will they advance along? It's probably unlikely. Giving in now doesn't put any stress on either side. Don't forget, both sides want something. And that something is money meaning this won't come easy. This isn't trading baseball cards with your friends. This is a labor negotiations and those can get ugly.
Whatever happens today, both sides will likely say, "Nope, not good enough" even if it's close. With a week to go until the CBA expires, there's still time to try and wring out a little more from the other side. The owners backed off guaranteed contracts and players have moved away a bit from taking in 57 percent of the league's basketball revenue. So there is
some
movement. There's progress,
even if as Berger noted
, the sides are "hundreds of millions" apart.
ESPN.com reported
that the owners are making pretty hardline demands, putting the players in a tough position to negotiate.
"The owners are asking for a give that puts them in a place where they've never been, which is guaranteed profitability," said a source familiar with the dynamics of this particular negotiation and past labor talks. "The biggest problem is that it is unreasonable for owners to even ask for $400 million when they say they are losing $300 million, and thus far they are nowhere near lowering their demands down to the $400 million range. So it's a question of when will they get to a number that is reasonable?"
The owners want to guarantee profitability. Of course they do. Makes sense to me. Who wants to lose money? Owning an NBA franchise used to be more of a hobby thing, but it's a business now. Owners want to make money. It's not about having a real life fantasy team anymore.
But if you're negotiating to make absolutely certain you make money? That's where things get hung up. There's a fine line between guaranteeing profitabilty and guaranteeing profit. All they deserve is a system that presents a solid opportunity to make money, not one that makes it a rite of passage. You still have to be a good businessman. You still have to spend wisely. Just giving owners an erasable blank canvas that they can scribble all over and start anew when a bad $6 million contract goes awry (hello,
Travis Outlaw
) is just ridiculous.
Capitalism provides opportunity, not guarantees. If the latter is the mindset the owners have going into Tuesday's supposed D-Day talks, I don't see anyone getting anywhere. The system needs some fixing. Even the players understand that. They've made concessions already and will have to make some more eventually. The owners though like their money and think the players get way too much of it. That's probably true, but that's life as the check-signer.
The players get to make their money because they are the employees. At any company -- Microsoft, Wal-Mart, the small-time appliance store around the corner -- owners have to manage a payroll, expenses and everything else correctly and if they do, they'll make the biggest profit of all. Owners are in a system where they can't do that now. So that has to be fixed. But the only guarantee they need is the opportunity to do so.