Posted by Royce Young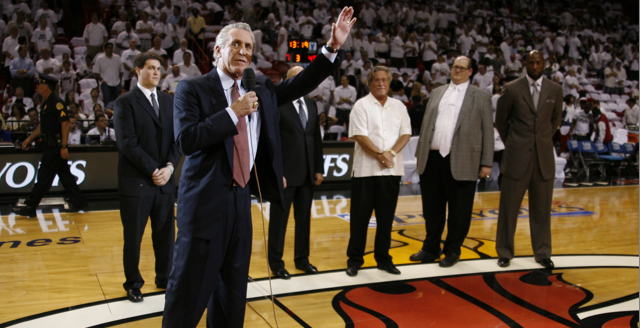 Some of the biggest issues with the Miami
Heat
this past season included arrogance. The lack of self-awareness. The ego. The taunting, the preening, the crowing. The Heat threw itself a celebration party before the players even had a practice together, and they started talking about seven championships and basically acted like they'd obliterate the league.
That's why this Pat Riley quote today from his exit interview wrapping the season should come as absolutely no surprise.
"The greatest thing in the history of South Florida sports was those guys coming together," Riley said. "With the exception of the [undefeated 1972] Dolphins. Maybe."
"Those guys" obviously being
LeBron James
,
Dwyane Wade
and
Chris Bosh
. (Not
Erick Dampier
,
Juwan Howard
and
Jamaal Magloire
, if you were wondering.)
Clearly, Riley might have exaggerated a bit here. He might have overstated the importance of those three players, just a tad. Possibly, there's a hint of hyperbole here. Especially when he corrects himself momentarily by saying the exception is the '72 Dolphins, then uncorrects himself by adding, "maybe."
Maybe?
Maybe
the greatest team in professional sports history was a bigger deal than three players deciding to play together? I don't know Pat, do you think the moon landing was a bigger deal than Justin Bieber's debut album?
Maybe
the fall of the Berlin Wall was a little greater than the return of the McRib. I'm not sure though.
What about your 2006 NBA title, Pat? Did you forget about that one? Or the other Super Bowl the Dolphins won? Or maybe the two World Series trophies the Marlins won? Or even the five national championships the Miami Hurricanes won in college football. (Though maybe those weren't so great. We all saw
The U
.)
And note this as well: Riley didn't say, "Them winning will be the greatest thing in South Florida sports history." He simply said just them playing together is. That statement sums everything up about the Heat better than anything. Celebrating something before the work is done. Lifting up a free agency period as a championship.
I get that people tend to speak in hyperbole ("
Transformers 2
was the greatest movie ever!") but you'd expect someone as deft and smooth as Riley to keep himself in check. The arrogance that leaks from the Heat is repulsive. They just can't shut up.
I agree with Riley too -- they're going to have their time. That roster is too talented not to win. In the end, the signing may indeed be the best thing ever. Maybe they will win four, five, six, seven championships. But don't count your chickens, Pat. Let your game do the talking. For once.