Among the many reasons this NBA season and these NBA playoffs were incredible, the fact that the
Mavericks
-- who had never won a title -- won should be considered heavily as the favorite. This was no rote "just another title" to throw on a dynasty's pile, nor a coronation of a team expected to win. It was an organic title, the kind that everyone should pay more attention to in sports. From good team to great team to hot team in the playoffs and finally champion.
And now we've got a nice video of what it was like
after
the Mavericks
partied like a rock star on South Beach
. Here's a video of them returning home to Dallas on the team flight. Highlights include:
Dirk working on the "We Are The Champions" rendition he did at the parade.
Caron Butler very excited despite his lack of playing time due to injury.
Jason Kidd with a simple "woo."
Rick Carlisle completely knocked out and sleeping the sleep of the victorious.
And a truly awesome "I'M THAT DUDE!"
But the best part of this video? This, right here: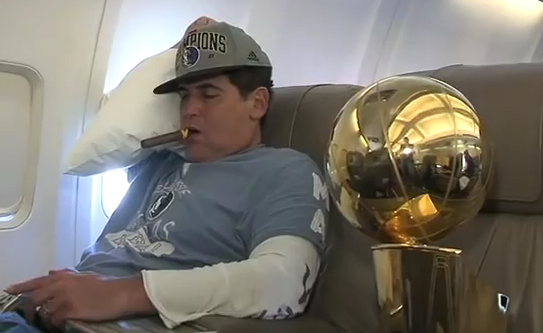 That, friends, is priceless.
(HT:
Earl Sneed on Twitter
)