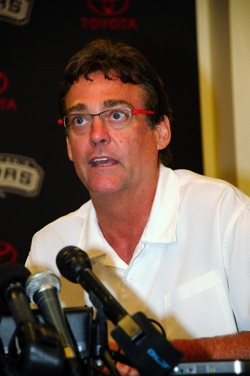 Posted by Royce Young
This might come as a great surprise, but the
Spurs
have denied shopping
Tony Parker
.
Via the San Antonio Express-News:
"We're not shopping anyone," (Spurs GM R.C.) Buford said, via text message. "We've received calls on a lot of our guys and we've answered the phone."
That's the story NBA GMs like to stick to. "We're not
trying
to trade anyone, but we're going to at least listen..." A little further down in fact, is this tidbit:
An executive of a team not involved in the discussions said he had no knowledge that the Spurs were seeking deals for Parker, but confirmed the belief they were "gauging the interest" of teams that called about him.

A basketball executive of another team said the Spurs were unwilling to discuss trading Parker to the Raptors unless they agreed to also consider taking small forward Richard Jefferson.
But they're not trying to trade anyone! Just listening! It does seem like a pretty unlikely prospect that the Spurs are going to shop Tony Parker for the seventh or eighth pick in a weak draft, but I guess if someone wants to call Buford and offer away, he's going to hear him out. As he should.
Remember, Parker was the one that said the Spurs' window was closing. But he also signed a long-term extension to stay with the team through 2014. I don't think he's getting traded. For whatever reason, teams like to leak information out like this to try and gain something out of it.
And if you remember, earlier Rod Thorn, the Sixers president, admitted to shopping
Andre Iguodala
. Why can't more people be like that? I guess because there's a fine line between "shopping" and "listening." Either way, the Spurs aren't hanging anyone out as meat on their roster. At least that's what they say.