Posted by Matt Moore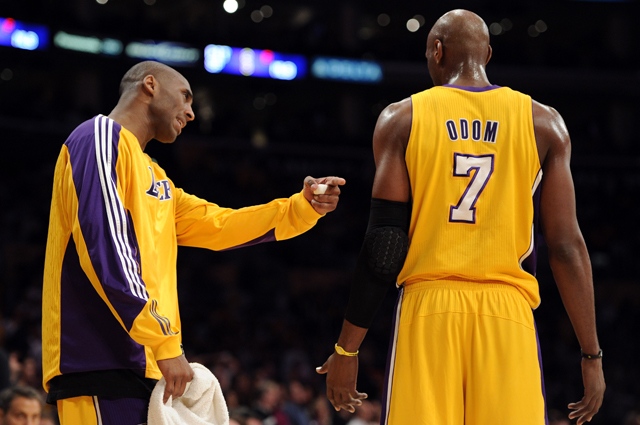 For the last week, rumors have been floated about
Pau Gasol
and
Andrew Bynum
being involved in trade talks by the
Lakers
. Every scenario has been shot down from one side or another and the pretty constant refrain has been that those two are not on the table for L.A., as they want to continue to compete for a championship. Yup, pretty clear those guys aren't going anywhere.
Lost in all this was the question of whether
Lamar Odom
was on the table. According to the
L.A. Times
, he is.
The Lakers tried to move up in Thursday's NBA draft by offering forward Lamar Odom to Minnesota for the Timberwolves' No. 2 overall pick, but Minnesota turned them down, according to two NBA officials who were not authorized to speak publicly about the trade talks. The Lakers wanted to use the No. 2 pick to select Arizona's forward Derrick Williams, the officials said.
via
Lakers offer of Lamar Odom for No. 2 pick in NBA draft rejected by Timberwolves - latimes.com
.
The apparent interest from the Lakers in Williams is somewhat confusing. Williams is not considered an out-of-this-world lock, he's not even the top player in the draft. He's older, and it's unclear if he'd fit in with the kind of alpha dog mentality he'd have to face from
Kobe Bryant
. On the flip side, it may show a dedication to keeping the Lakers relevant beyond just the current team's run, as Williams would inherit the team from Bryant just as Bryant inherited... okay, won the team in a cage match with Shaq. It would be very Lakers-like to turn a supporting component like Odom into next decade's star player just as the current team fades into a lesser state due to age.
But so far, it hasn't been enough. The Wolves were the one to reportedly reject the trade, because they feel Odom's a power forward and that position is committed to
Kevin Love
. Why they wouldn't employ Odom as a small forward in given situations is a little baffling, but again, it's the Wolves. You glean what you can.
Still, Odom being on the block means there have been rumors about all three of the Lakers' primary frontcourt assets. As much as the Lakers keep selling the idea that it's buisness as usual and they're in no rush to remake the team through a trade, the grapevine tells a different story.