Kyrie Irving, the projected No. 1 pick in the 2011 NBA Draft, met with the media on Wednesday. Posted by Ben Golliver.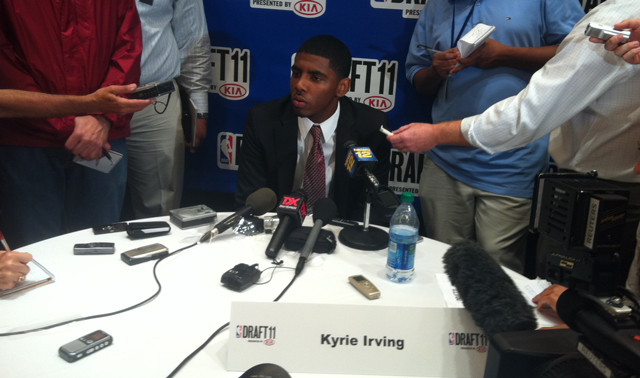 NEW YORK, N.Y. -- The word you're looking for to describe projected No. 1 overall pick Kyrie Irving is "poised."
Irving and 11 other future first-round picks in the 2011 NBA Draft met with the media at the Westin in Times Square on Wednesday,
By and large, the twelve young men -- who range in age from 19 to 22 -- were asked the same questions. No one was as prepared or as polished as Irving.
A hot topic in New York and across the country is the looming potential of a lockout and work stoppage. Those questions were usually met with a dodge by the Class of 2011. Something like, "I'm just concentrating on tomorrow right now and that will work itself out" or "I'll stay in shape and be ready whenever the season starts."
Irving, however, wasn't ready to cop out.
Dressed comfortably in a full suit when most of his peers were wearing polo shirts or casual attire, Irving said he would head back to Duke, where he went one and done, and enroll "like a regular student" to get to work on his degree. He laid out a five-year plan for earning his diploma, expressing a desire to major in African-American studies, and said he had committed to maintaining a 3.5 GPA or higher.
Reporters that had never heard Irving in person exchanged looks and raised eyebrows. More than one seemed ready to take him home to meet their daughters.
Where most of the players assembled fumbled with how to respond to questions about this being a weak draft, Irving stuck up for his peers. "This draft is really special regardless of what people say," Irving proclaimed, before listing off Arizona forward Derrick Williams and Turkish big man Enes Kanter as potential stars.
Where other prospects hesitated to compare their games to current NBA players, Irving seized the opportunity with a concise, studious description.
"I'm a balance between
Chauncey Billups
and
Chris Paul
," Irving said.
That combination is fairly apt. At 6-foot-3 and 190 pounds, Irving has excellent size, good decision-making skills and the ability to beat you with his own offense or by making plays for others. He has an excellent, intuitive sense of the game and he makes a coach comfortable when the ball is in his hands.
Irving is widely expected to be the first name called on Thursday night. The Cleveland
Cavaliers
hold the No. 1 pick and it would qualify as a stunner if they selected anyone but Irving. While Irving made it clear he is no replacement for departed Cavaliers forward
LeBron James
, he also said he sees opportunity for someone in his position to make an immediate impact in today's NBA.
"This is a youthful league," Irving noted. "Derrick Rose won the MVP in just three years."
The type of transformation Rose brought to the Chicago Bulls would be a dream scenario for Cavaliers fans. The year before Rose arrived, Chicago won 33 games. This season, the new-look Bulls, constructed entirely around his skills, won 61 games and made the Eastern Conference Finals.

Irving was even prepared with a one-liner when the inevitable question about what he planned to wear on Thursday night.

"I might wear a bright Duke blue suit with blue gators," Irving joked. In typical fashion, he then made it clear that he would actually be wearing "something conservative."

As the pre-draft process has unfolded, Irving has been painted as a safe pick, the conservative option compared to the potentially more dynamic Williams or the unknown in Kanter. That dichotomy doesn't do his talent and leadeship justice. He's a natural leader with true star potential. Much like Paul, Irving's self-confidence hits exactly the right note. His fellow players will follow him.

Wednesday capped what has been essentially a flawless pre-draft process start-to-finish for Irving. From his unusual appearance at the draft lottery drawing, to his regular visibility courtside at high-profile playoff games, Irving has shown time and again that he means business. No matter the question, he had the answer.

There shouldn't be any question about who goes No. 1.