The Portland Trail Blazers and Orlando Magic are reportedly discussing a trade involving Andre Miller and Jameer Nelson. Posted by Ben Golliver.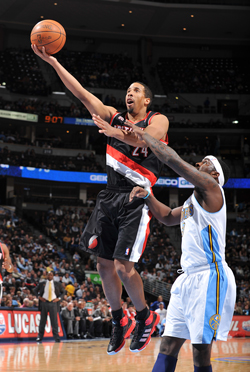 The Portland Trail Blazers are clearly looking for an upgrade at point guard. The Orlando Magic are always looking to shake things up, especially after the team bounced out of the NBA playoffs in the first round and now feels the pressure to do whatever it takes to keep franchise center
Dwight Howard
from skipping town.
Could the two teams find a deal that satisfies their mutual interest?
DraftExpress.com reports
that they are working on it: "Hearing Portland and Orlando are talking about swapping Andre Miller and Jameer Nelson, with the #21 pick going to Orlando."
Miller is on the books for $7.3 million while Nelson's contract figure is at $7.8 million, so the two players could be swapped for each other without other contracts being thrown in. Nelson is on the books through 2012-2013 while Miller can either be waived before June 29 for salary cap relief or can be paid $7.8 million next season. The Blazers would have no issue taking on the additional salary because the team lacks depth at the point guard position and realizes Miller is not the long-term solution. The Magic, meanwhile, would likely keep Miller or flip him for another point guard rather than waive him, as
Gilbert Arenas
represents the only available option at the one.
Miller is 35 years old while Nelson is 29, so the interest from Portland's side would come from getting younger at the point guard position. Nelson boasts an NBA Finals appearance on his resume and has actually played in the same number of playoff games (39) as Miller, despite being six years younger. He also is a career 39.0% 3-point shooter, a significant upgrade over Miller (20.4%). For years, the Blazers have repeated a desire to improve their outside shooting.
What he lacks in range, Miller makes up for in basketball smarts, consistency and play-making. In 2010-2011, he averaged 12.7 points and 7.0 assists -- compared to Nelson's 13.1 points and 6.0 assists. He is also one of the league's most durable players, and has not missed a game due to injury in eight seasons. He's also one of the league's best lob passers, an excellent weapon if he were to be paired with Howard. He has yet to win a playoff series in his 11-year career, though, a potential red flag or sticking point for a team like Orlando which is desperate to win now to appease Howard.
The Magic currently only have one pick, a second round selection at No. 53 overall.
Given the difference in age between the two players, it feels like Orlando should be able to siphon off additional, minor assets if a Miller-for-Nelson swap were to go through. The No. 21 pick in a relatively weak draft wouldn't seem to make up for the difference in future productivity between the two players, especially given the affordable nature of Nelson's contract.
The Blazers
have also been linked to
San Antonio
Spurs
point guard
Tony Parker
, as recently as last night.