The Palms Casino in Las Vegas celebrates the Sacramento Kings' drafting of BYU guard Jimmer Fredette. Posted by Ben Golliver.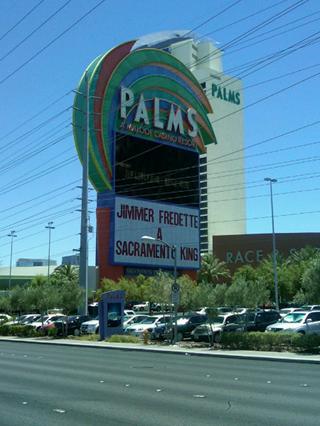 Go big or go home.
That seems to be the mantra for the Maloof Family, owners of the Sacramento Kings, after conducting a confusing, dispiriting draft on Thursday night. It was an evening that saw them take on money, downgrade their roster in trade, trade down for no real reason and draft BYU guard Jimmer Fredette, the most hyped and polarizing player in the 2011 NBA Draft.
Reportedly, not everyone in Sacramento
was on board with the selection, as whispers floated that members of the coaching staff would have preferred a different approach.
But Fredette was linked to the Kings for days, if not weeks, before the draft because of his marketability and regional popularity. The goal for the Kings, who nearly relocated to Anaheim, are looking to build a new arena and are struggling at the gate, is to monetize Fredette's popularity.
It's a somewhat desperate effort given that Fredette is 22 years old, lacks a true NBA position and almost certainly cannot defend on the NBA level. But desperate is all the Maloofs have left.
Last week, we noted
that the Maloofs were selling their stake in the Las Vegas Palms Casino to get rid of their debt burden. That didn't stop them from putting up a sign celebrating their draft night. "Jimmer Fredette A Sacramento King" bellows the billboard in front of the hotel.
While this is meant to be a festive scene, it comes of as a bit depressing. One crumbling jewel of the Maloof's dwindling portfolio hawking the misguided and illogical strategy of another.
Photo credit: DJ MacKinnon on Lockerz.com.