Kyrie Irving, Brandon Knight and Kemba Walker -- the top three point guards in the 2011 NBA Draft -- face logjams of varying degrees on their new teams. Posted by Ben Golliver.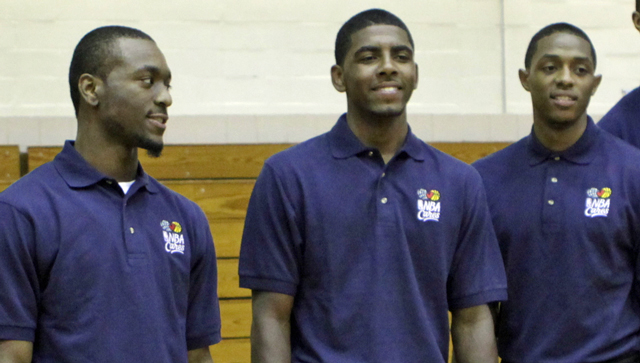 NBA executives talk all the time about drafting the "Best Player Available" rather than targeting a particular position of need. The logic goes that NBA roster turnover happens at such a pace that it's better to collect talented players, letting them beat out incumbents for a spot, rather than compromising on upside simply to complete a jigsaw puzzle that could change quickly due to injury, chemistry or other factors.
One of the most unusual aspects of the 2011 NBA Draft is that the top three point guards that went off the board -- Duke's Kyrie Irving, Kentucky's Brandon Knight, Connecticut's Kemba Walker -- all went to teams with an incumbent option or options at the one.
Starting from Day 1 has proven to be a blessing for recent point guard prodigies like
Derrick Rose
of the Chicago
Bulls
and
Russell Westbrook
of the Oklahoma City
Thunder
. Getting NBA reps at the earliest age possible -- with a support staff and management structure that trusted in their abilities -- was vital in the development for both. Last year's No. 1 selection,
John Wall
, followed that same track for the Wasington
Wizards
. But Irving, Knight and Walker could face slightly different circumstances. Let's take a look at each.
Kyrie Irving -- Cleveland Cavaliers
The No. 1 overall pick, Irving, out of Duke University, is the most NBA-ready point guard prospect in this year's group. He goes to a team that needs a new face, a new identity and a new direction after an awful season that resulted from the departure of
LeBron James
. He's got the size, smarts, scoring instincts and play-making ability to start from Day 1. He should start from Day 1.
The only problem? The Cavaliers have former All-Star
Baron Davis
and capable back-up
Ramon Sessions
already on the roster. Sessions' agent made it clear earlier this summer that something would have to give if Cleveland drafted Irving, but nothing gave on draft night. Neither Davis nor Sessions was traded.
Daniel Gibson
looms too, as he played a fair number of backcourt minutes last year as well.
The ideal scenario long-term would be to move Davis and the remaining money on his contract, however possible. That would allow the Cavaliers to turn the keys over to Irving immediately, with Sessions, a very capable and fairly paid back-up, able to step in and play big minutes as needed behind Irving or alongside of him. Gibson, if his $4.4 million salary for 2011-2012 couldn't be moved, would then provide depth.
The only problem? Davis is on the books for $13.9 million next season and has a $14.8 million player option for 2012-2013 so there may not be any takers until he becomes an expiring contract at the end of next season. Theoretically, the Cavaliers could make him an amnesty clause casualty, depending on the terms of the next Collective Bargaining Agreement.
If Irving and Davis are both on the roster, Cleveland will need to get to work on Davis, making sure he understands his role as a veteran on a rebuilding team. At 32, Davis' job now is not to lead Cleveland to the playoffs. His job is to help mentor Irving into a franchise, All-Star caliber player.
Brandon Knight -- Detroit Pistons
The Pistons were a dysfunctional mess last season under coach John Kuester, who tried all sorts of different things at point guard, including a
Tracy McGrady
experiment.
Brandon Knight -- a very talented, intelligent prospect who has done his best to shake off the "combo guard" label since finishing his one season at Kentucky -- enters the mix on a roster that currently has
Rodney Stuckey
, who was recently extended a qualifying offer for next season, and the undersized but capable
Will Bynum
. Knight is not as ready as Irving this year or as ready as Wall was last year, so turning the keys over to him immediately would mean a long, painful journey.
The biggest question for the Pistons is what to do with Rodney Stuckey. Knight's presence certainly makes the team less dependent on Stuckey, so if someone makes an offer that is too rich for Detroit's blood, they won't be in a position where they will be forced to overpay to retain him. With that said, keeping Stuckey around if possible is worth doing. He is talented and will draw trade interest down the road, especially if he's retained on a reasonable deal, once Knight develops.
Assuming Stuckey returns, which would be the best case scenario, Knight should plug in as the second string point guard, playing as many minutes as he can handle and given every opportunity to prove himself to be a starter. In that scenario, Bynum becomes expendable. He's on the books for $3.25 million for each of the next two seasons and there should be a decent market for his services at that number.
If Stuckey either isn't retained or is moved in a sign-and-trade, Bynum becomes the Day 1 starter, with Knight as the back-up. In an ideal world, Knight responds to that role well and potentially works his way ahead of Bynum by the middle or latter half of the 2011-2012 season. If the learning curve happens to be steeper, Bynum remains in place. If the Pistons fall totally out of the Eastern Conference playoff chase given that rotation, Knight could take on the starter role, allowing the Pistons to get to work on the future.
Kemba Walker -- Charlotte Bobcats
On Draft night, the Bobcats executed a complicated three-way trade that shipped out forward
Stephen Jackson
and guard
Shaun Livingston
to land an extra top 10 pick and
Corey Maggette
. An under-reported highlight of this trade was getting out of Livingston's contract, as he was owed $3.5 million for 2011-2012 and 2012-2013. Clearing Livingston not only moved his salary but it also opened up plenty of minutes in Charlotte's backcourt.
Enter Kemba Walker, the star of the 2011 NCAA tournament and a potential franchise guard. He joins a stripped-down team that is clearly looking for a slash-and-burn style rebuilding project after the trade of Jackson and the 2011 deadline move of
Gerald Wallace
to the Portland
Trail Blazers
. Walker will join a backcourt that currently includes last year's starting point guard,
D.J. Augustin
, and two guards
Gerald Henderson
and
Matt Carroll
. That's it. Those are the only guards currently under contract for the 2011-2012 season.
In other words, Walker will be given free rein, likely as a third guard, to both score and distribute. He should have the ball in his hands plenty and should be encouraged to take as many shots as he wants. He'll be playing in a pressure-free environment as he learns the ropes. The Bobcats will surely encourage him to push Augustin for the starter's job, but anything past playing major minutes in a back-up role this year will be gravy. Augustin will become a restricted free agent following the 2011-2012 season so the Bobcats will have plenty of flexibility in terms of how they handle his future with the team.
Going forward, new GM Rich Cho will have the luxury of shaping Charlotte's roster to fit Walker's skillset. Those moves will begin soon as the Bobcats clearly need to fill out their roster. Regardless, this is an excellent landing spot for Walker. He can move into a starter's role at his own pace while getting plenty of playing time immediately. The best of both worlds.