New Orleans Hornets forward David West opts out of the last year of his contract to become a free agent. Posted by Ben Golliver.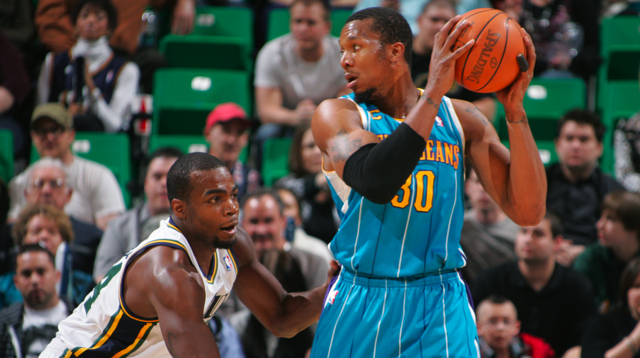 Update 10:11 a.m.:
West has officially opted out, per a team release.
Original report:
Back in March
, in an ugly scene, New Orleans Hornets All-Star forward David West awkwardly fell to the ground during a shot attempt, tearing the ACL in his left knee. There's never a good time for a serious knee injury, but West, 30, was headed into the summer expecting a final major pay day.
Instead, the injury created a very difficult predicament: He could either opt in to the final year of his contract, worth $7.53 million, or he could hit the open market as a free agent with an injury and a lengthy rehabilitation timeline that would extend into next season.
ESPN.com reports
that West, who averaged 18.9 points and 7.6 rebounds in 2010-2011, is set to opt out and test free agency.
David West is expected to opt out of the final season of his contract this week and become a free agent, according to sources close to the situation.

West has a June 30 deadline in his contract to notify the Hornets whether he will invoke next season's $7.5 million salary or opt for free agency, but sources say that the Hornets are already bracing for West to make his opt-out decision official before Thursday's buzzer.

The Hornets have anticipated all along that West would become a free agent, even though the former All-Star was forced to undergo surgery in April to repair a torn anterior cruciate ligament in his left knee suffered March 24. The reason: West still figures to be one of the two or three most coveted players on the open market.
The safest play in this situation would be to opt in, but with uncertainty over the next collective bargaining agreement and a weak overall crop of free agents, the risk in opting out isn't as big as we might expect.
The worst case scenario here is that West, who has at least 3-4 years of solid production left, reaches an agreeable multi-year extension to stay with the Hornets. West is a franchise icon and the Hornets aren't particularly deep in the frontcourt, although
Carl Landry
filled in nicely for New Orleans during their first round playoff series against the Los Angeles
Lakers
. If the Hornets are interested -- and they've made it known publicly that they are -- West's options are to go forward on a one-year deal for less than $8 million or to negotiate a multi-year contract with the team that is assuredly going to be bigger than that. If a third party team swoops in to boost his market value, all the better.
In this light, after some thought, West's decision doesn't seem all that difficult after all.