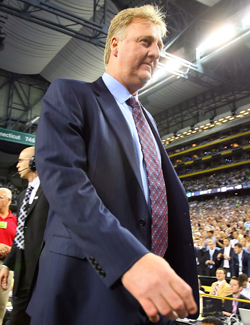 Posted by Matt Moore
Larry Bird's decision
to return
to the
Pacers
came as a mild surprise. Bird's been signaling his way out of town, out of public life, really, for quite some time. He's never much liked the spotlight and has been talking about not wanting to do his job as president of the Pacers forever. Recent comments have made it clear it's not his intention to stick around.
But when push came to shove, with the coaching situation providing instability and the roster at a pivotal point with money coming off the books headed into a new CBA and with the team wanting to build off its success this season, Bird decided to stay.
Before you get lulled into thinking Bird may be swung into staying a while based off how "enjoyable" he said last year was, though, take a gander at what he told the
Boston Globe
:
"It's a handshake deal,'' said Bird, who will be honored tomorrow at TD Garden as part of the Sports Museum's The Tradition. "I don't want a [long-term] contract.'' But they both know a year isn't a very long time.

"It's at a point now in my life where I think it might be time to really reconsider and see how long I want to do this,'' said Bird, now 54. "They asked me to stay another year through the lockout season, the owner did, for a favor. I was leaving, but he asked me to stay, and I will and I'll get the job done.
via
Larry Bird may look to slow the pace - The Boston Globe
.
Bird has been in the Pacers' front office for eight years. It's no wonder he's getting burned out. In reality, you can tell part of Bird is frustrated by missing what it was like to step out on the floor and knock down the shot, grab the rebound and make the pass himself.
That's the hardest part for legends turned decision-makers: watching someone else try and execute what they know how to do.
The Pacers have a fast, young point guard and a versatile forward, who at the very least will fetch a hefty price on the market. They've got a center with upside (even if he's frustratingly passive), and a number of talented forwards and wings like
Paul George
,
Tyler Hansbrough
, and now
George Hill
to add to the puzzle.
And with a new core being developed, maybe it is time for some new blood in Indiana. Larry Bird's earned a
real
retirement.