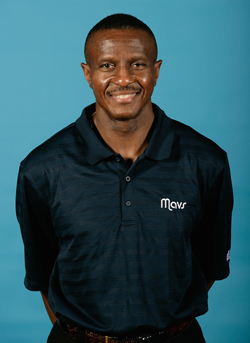 Posted by Royce Young
Picturing the Toronto
Raptors
as a team that's going to stop people is hard. Kind of like picturing the Toronto Raptors as a good team, I guess.
But new coach Dwane Casey is committed to the defensive end. And he should be. He just saw how that kind of philosophy worked in Dallas leading to a championship.
In an interview with SI.com's The Point Forward
, Casey preached a defensive approach, along with a solid use of advanced metrics.
It's all about what you emphasize as a coach. Jay [Triano] has done an excellent job at creating an offensive atmosphere, and I don't want to take away from that. But we have to have a defensive emphasis. We have to create a defensive identity. Every single day there will be a theme of the day about defense, whether it be working on one thing in regard to the pick-and-roll or man-to-man or whatever. There will be a theme every day until we get an identity we can compete with.
The Raptors certainly could score last season. Offensive talent is there. But how do you turn guys like
Andrea Bargnani
,
Jose Calderon
and even new guy
Jonas Valanciunas
into capable defenders? Here's how: The same way you did it with
Dirk Nowitzki
and
Jason Kidd
.
Casey compared Bargnani to Dirk and it's a valid comparison in a lot of ways. Both are deft international players with an impressive touch at seven feet tall. The biggest difference is Dirk has built an impressive post game, rebounds and works hard defensively. Bargnani needs those three things. But Casey can bring that message to Bargnani.
Well, he's not going to be our starting center, really [because he's more of a power forward]. He's in a similar situation with Dirk Nowitzki at this point in his career. I'd have to check their numbers, but I'd venture to say at this point in his career, he's probably somewhere in the same area where Dirk was, where both have had to live down the reputation of being soft. And by the way, Dirk has never been anywhere near soft. Don't ever use that word with him.
In reality, Casey's experience with Dallas probably made him an ideal fit with the Raptors. In a way, the Raps are kind of the Mavs lite.
Amir Johnson
could be
Tyson Chandler
-ish, Bargnani cast as Dirk and though it's a stretch,
DeMar DeRozan
as a scoring punch at guard like
Jason Terry
. There's potential there. Casey will likely bring along the Dallas zone too to help hide guys like Bargnani and Calderon. Worked wonders in Dallas.
You can win with offense, but only 30 games or so yearly. That's where the Raptors were with Jay Triano. To take another step, it's time to play defense. And that's the plan Casey's bringing.