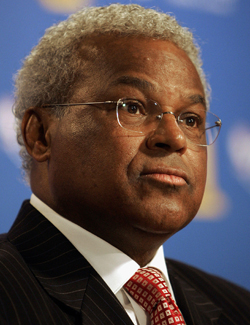 Posted by Matt Moore
You have to lead by example. That's always been pretty clear. You can't expect people to follow what you say unless you walk the walk. So now that the NBA has entered into the deep dark lockout landscape, things are about to get real. No more t-shirts, no more slogans, no more parading. This is the real thing, and the money will stop... well, in November, since that's when most of the players contracts under the last CBA run through. But still! The money chokehold is about to get serious, and some players have some questions for their leadership.
Yahoo! Sports reports
that after
Kevin Garnett
did his usual over-dramatic rabble-rousing last week,
Shane Battier
asked a question of the union president, Billy Hunter. Would he take a paycut,
just as NFLPA Executive Director DeMaurice Smith did
? Hunter sidestepped the question, then the rest of the executive board came to his defense, according to the report. But Hunter's evasiveness of the issue calls into question his commitment to the cause, and exactly how much he's "in the trenches" with the rest of the players for what Hunter has set up to be a very long lockout. Yahoo! also reports Hunter was granted over $1 million last year for unpaid vacation. Which is categorically insane independently, considering his job structure and responsibilities, but whatever.
Perhaps most concerning from the players' perspective is this quote from Yahoo!, from a player regarding how Hunter conducts himself in response to union representatives voicing questions or concerns:
"Billy isn't afraid to embarrass you in front of other players, if he doesn't like your line of questioning," an Eastern Conference player said. "He's done a good job keeping us informed and fighting [NBA commissioner David] Stern, but I don't need to be lectured by the guy. I'm allowed to ask a question."
via
Hunter sidesteps question on pay - NBA - Yahoo! Sports
.
That's bad leadership right there. As is declining a pay cut. Even if you structure it differently to ensure you get the same money eventually, you need to in order to be side-by-side with the players who pay you to represent them. Otherwise, you have a system wherein someone who isn't taking responsibility allows months and months to go by without negotiations, waiting until the last minute to enter into serious conversations and only then taking a stand against progressively stronger tactics from the owners.
Oh, right, that's exactly what happened.
The players' side has been considerably more willing to compromise during this entire process, and up until the last few weeks have conducted themselves in a much more professional manner. But the fact remains that Hunter has been out-flanked badly in this process, and now he's stepping into snares from his own players, even as the trap-setters say "Don't step there!"
Whether the center can hold will determine if the players can avoid getting routed in this process over the coming months.
Final note: Is there anything more perfectly exemplary of the discrepancy among the players? Kevin Garnett brings t-shirts with "STAND" on them and does his dramatic yelling trick, and Shane Battier asks a relevant, important question. One is celebrated, the other shut down. Does not inspire confidence for the players' side in this.